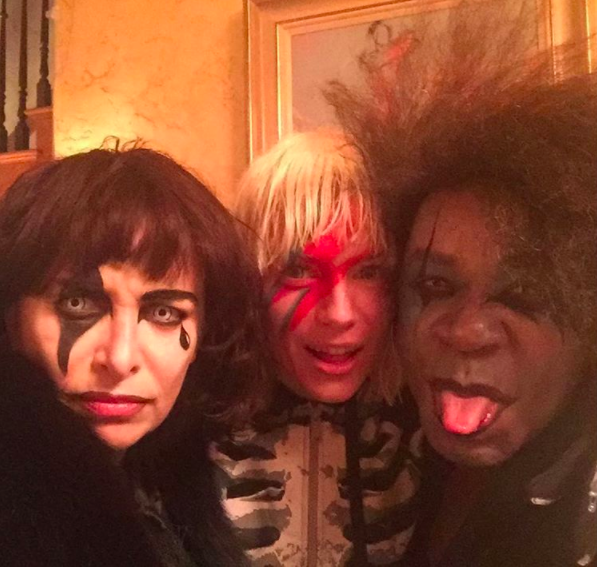 This Halloween I was in New York and it was so much fun to be able to make up two of my favourites – Sienna Miller and Anja Rubik. Halloween in New York is less about the scary, ghoulish side of things, it's more of an exciting celebration, with people trying out all sorts of crazy, creative looks. It's the one time of year where there really aren't any rules and you can just go for it and do whatever you feel like!
I created two very different looks for Anja and Sienna; Sienna had the idea to try a David Bowie inspired Skeleton look for a bit of fun and Anja was being a judge at a luxury architectural awards ceremony, so for her, we created a glitter tears makeup inspired by luxury and gold.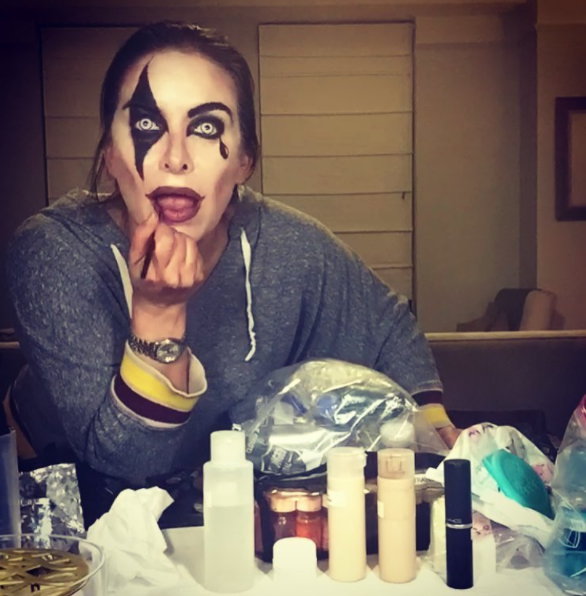 My friend, hair stylist Earl Simms and I decided to dress up as clowns so we got out all of the more creative, special effects type makeup from my kit and Earl got out lots of different wigs from his and we had fun playing around!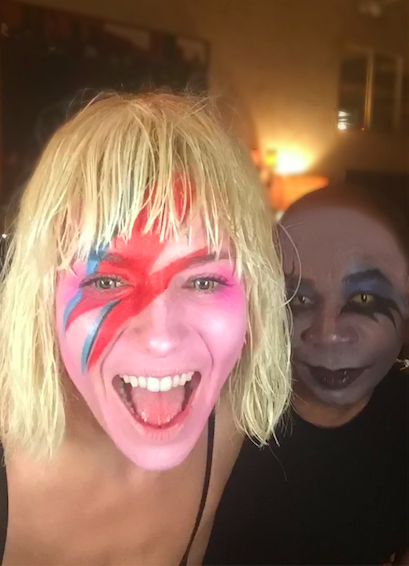 Sienna's Look
For Sienna's David Bowie Skeleton look, I used MAC paint stick in white mixed with a little Mac Lipmix in pink to create the base all over Sienna's face. I then used Fardel paints to create the Bowie inspired stripes down the centre of Sienna's face and on her eyes, I used a pink MAC Pigment and finished with loads of mascara. Earl tried lots of different wigs and in the end decided on a cool blonde wig with a fringe. We completed Sienna's look by giving her some contact lenses by Mad Hatter to give the look added intensity!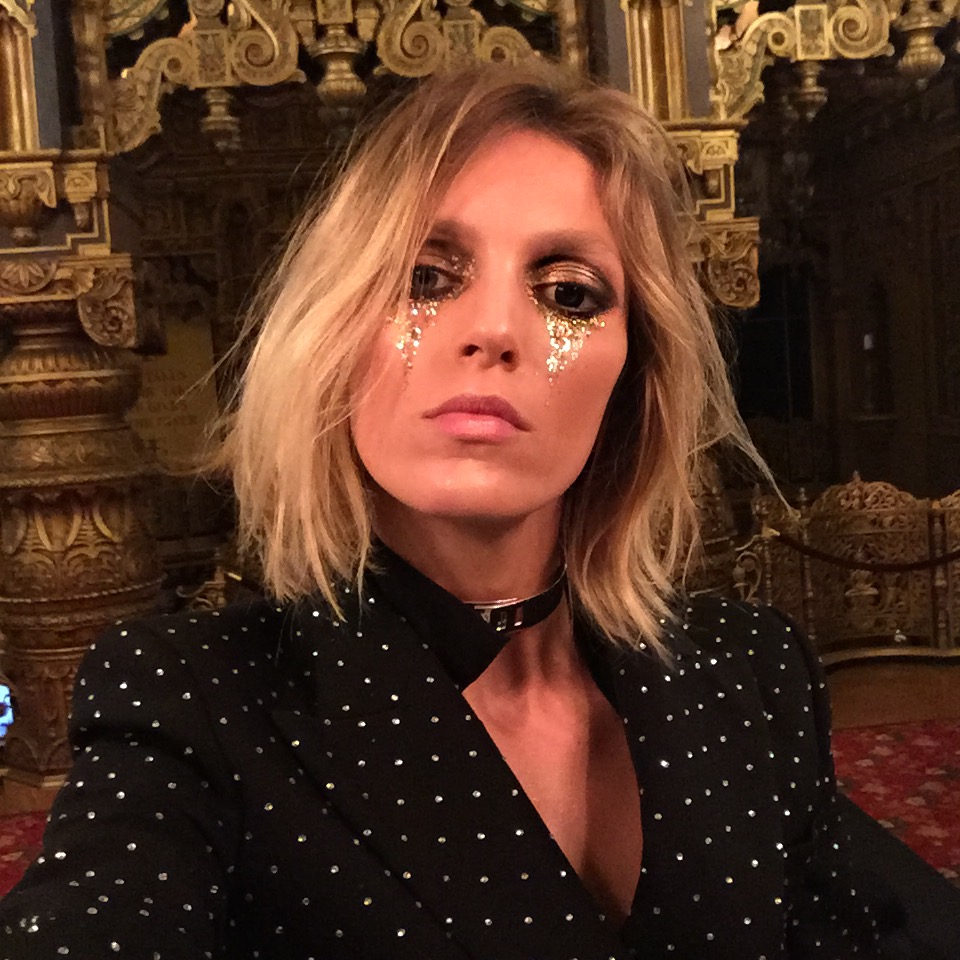 Anja's Look
Anja's look is more wearable than a lot of Halloween looks – the sort of thing you could try for New Years Eve or a Christmas party. I started Anja's look by creating gorgeous skin, prepping the skin first before using Burberry Fresh Glow Foundation and Burberry Sheer concealer to create a flawless, dewy finish.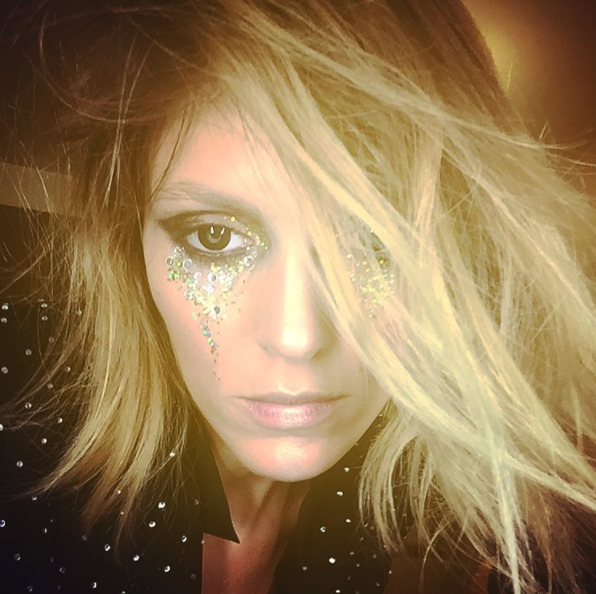 The theme of the awards that Anja was hosting, was all about Luxury and so we decided to go for luxury gold glitter tears, layering Burberry Gold Glitter tears and finishing with a few Swarovski crystals for more drama. I used Pat McGrath's gold pigment mixed with a little of her shine stick down the nose and on the chin and a little on the mouth, for a touch of metallic iridescence. I finished the look by using a black eyeliner to line around the eyes and mixed a gold pigment by MAC with mixing medium to create an eyeshadow which I applied on Anja's lids.
Mine and Earl's Looks
Earl and I decided we'd both go as clowns – for me, I mixed some white paint stick in with the lightest shade of Burberry's Cashmere foundation as a base. I wanted to create a sort of Rock 'n Roll feel to my clown look, inspired by Siouxsie Sioux, using a black eyeliner to create bold, dramatic eyebrows and a rock n roll inspired a-symmetric eye look with a tear on one side and a diamond shaped clown eye on the other side, adding in some fangs and completing the look with some contact lenses.
For Earl, we created more of a Jimi Hendrix meets Krumping Clown vibe. I added in some blue pigment with Burberry's Cashmere foundation to create his base, and used blue around the eyes as well as adding some black eyeliner to create dramatic, a-symmetrical clown eyes. We finished off the look with a dark lip, Cat Contact Lenses and Earl chose a Jimi Hendrix style wig to complete the look.
© Wendy Rowe. All Rights Reserved.