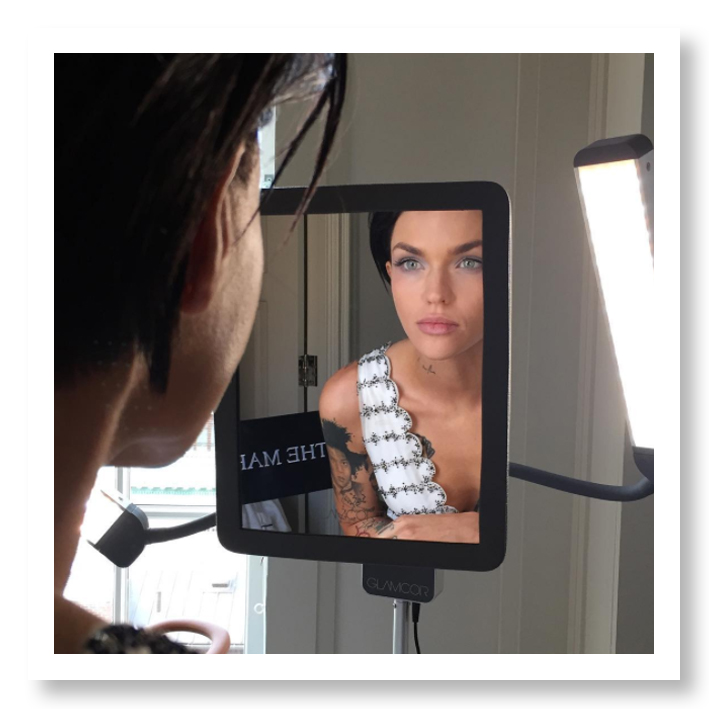 I always love seeing the makeup, hair and outfits on the red carpet for the Met Gala each year and its always so much fun to create a makeup look for the event.
This season, I made up beautiful Ruby Rose for her first ever Met Gala appearance wearing a stunning Burberry gown. I took inspiration from the subtle beauty from a Renaissance Oil painting when I designed Ruby's makeup look, using blues, greys and muted pink and nudes and Hair Stylist Brant Mayfield created a modern, sleek hairstyle to complete Ruby's red carpet look.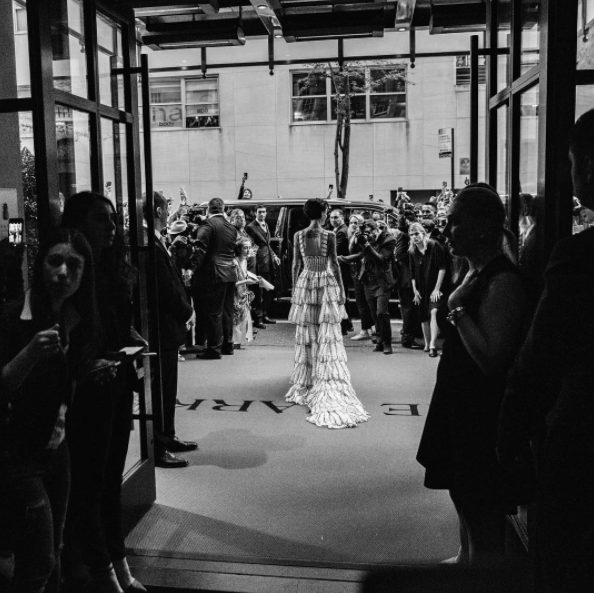 Find out the step by step to achieving the makeup look I created here:
SKIN
Fresh, glowing skin is so important on the red carpet. The harsh, flash lighting shows up any imperfection, and it's easy for makeup to look heavy and over-powdered if you don't get the skin quite right.
I spent time prepping Ruby's skin before I applied any makeup to get it in a really good place; cleansing, toning and moisturising and applying an eye cream and lip balm.
Find out my skin prep tips here




To create flawless, glowing skin, I started Ruby's makeup look by using Burberry's Fresh Glow Fluid in Nude Radiance – it's amazing for creating gorgeous, natural looking luminosity.
Next, I used Burberry's Face Contour Pen to sculpt Ruby's features and enhance her facial framework, using it around the cheekbones, jawline and in the eye sockets. I can't live without this contour product – it's totally undetectable, but super effective!
I applied Burberry Sheer Concealer in number 3 around the eyes to cancel out any darkness, and applied shades 1 and 2 to add in highlights around the tops of the cheekbones, down the centre of the nose and on the bow of her lip.
To even out Ruby's skintone and blend in the contour and highlights for a flawless finish, I applied Burberry's Fresh Glow Foundation in number 26 and 32 mixed together, and I used the Cashmere concealer in number 4 on any imperfections.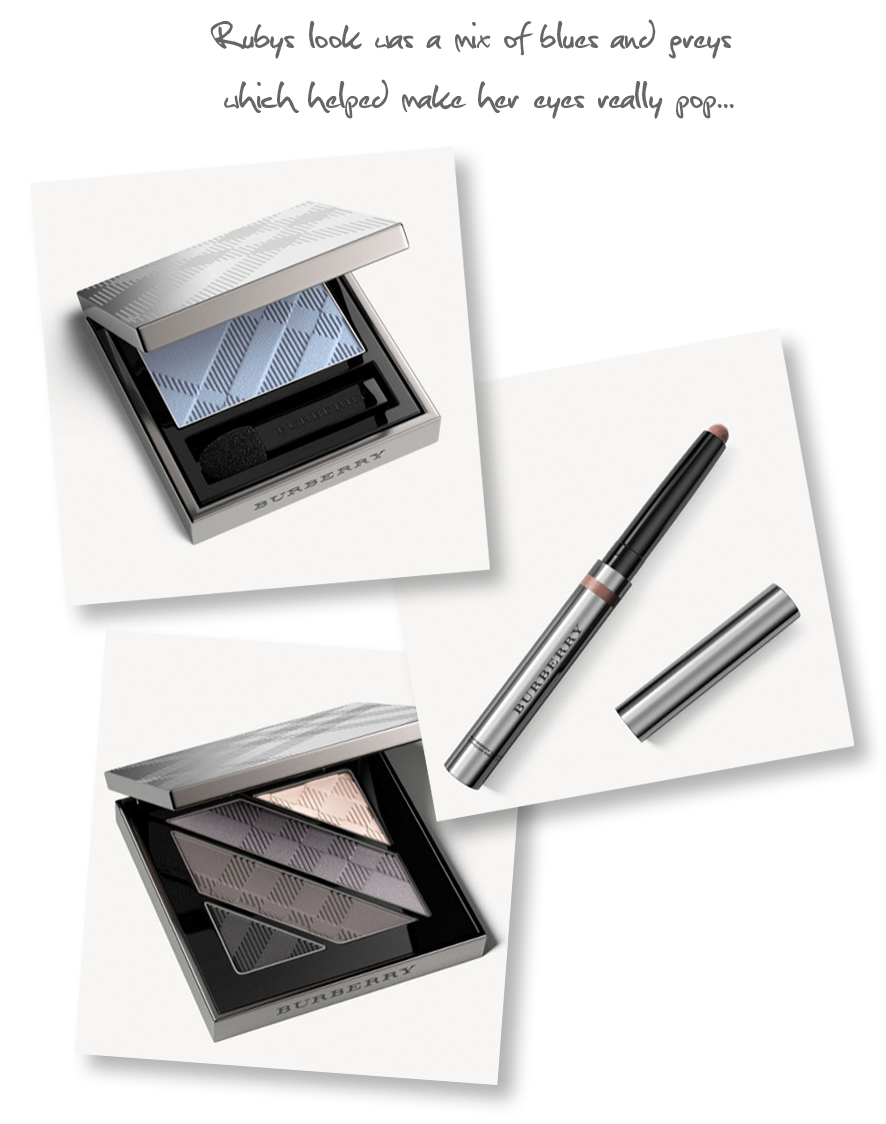 EYES
I wanted to make Ruby's eyes pop, so I started by curling her lashes and applying Burberry's Cat Lashes Mascara in Black . I lined her upper lash line with an amazing new black liquid liner (it's not actually launched yet, so I have to remain tight lipped for now, but stay tuned to Burberry Beauty for the launch coming soon!) and applied a blue shadow around the eyes on the lids and a little underneath.
I applied Burberry's Lip Contour in Fair in the crease of the eye and around the brow bone to make her eye colour pop, and applied Burberry Eye Colour Contour in Rosewood underneath her eyes.
I finished by blending grey eyeshadow over the lids to intensify.
I completed Ruby's eye look by brushing up her brows and defining them lightly using Burberry Eyebrow Definer in Ash Brown.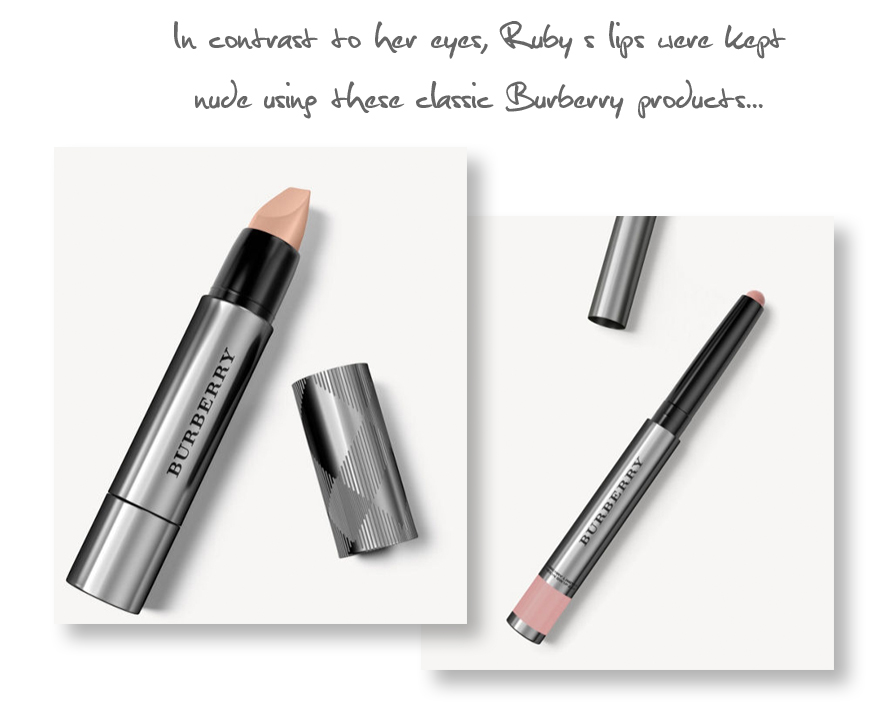 LIPS
On Ruby's lips, I applied Burberry's new Lip Contour Pen in Fair to create the feeling of natural looking fullness, and I applied a little of Burberry's Full Kisses Lipstick in Nude Beige – just dabbing a touch into the centre of Ruby's lips for the ultimate dewy nude lip look.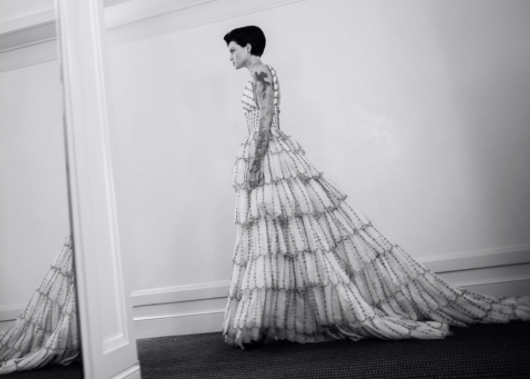 Finishing Touches
To complete Ruby's look, I applied Burberry's Earthy Blush – my favourite shade for adding an effortless, sculpted feel to the face, and I applied Burberry's Nude Powder in number 12 just underneath the eyes, around the nose and to take away any unwanted shine.
Around the high point of the cheekbones, I dusted a touch of peony pink blush to enhance Ruby's eye look even further and add a soft, painting like quality to her look.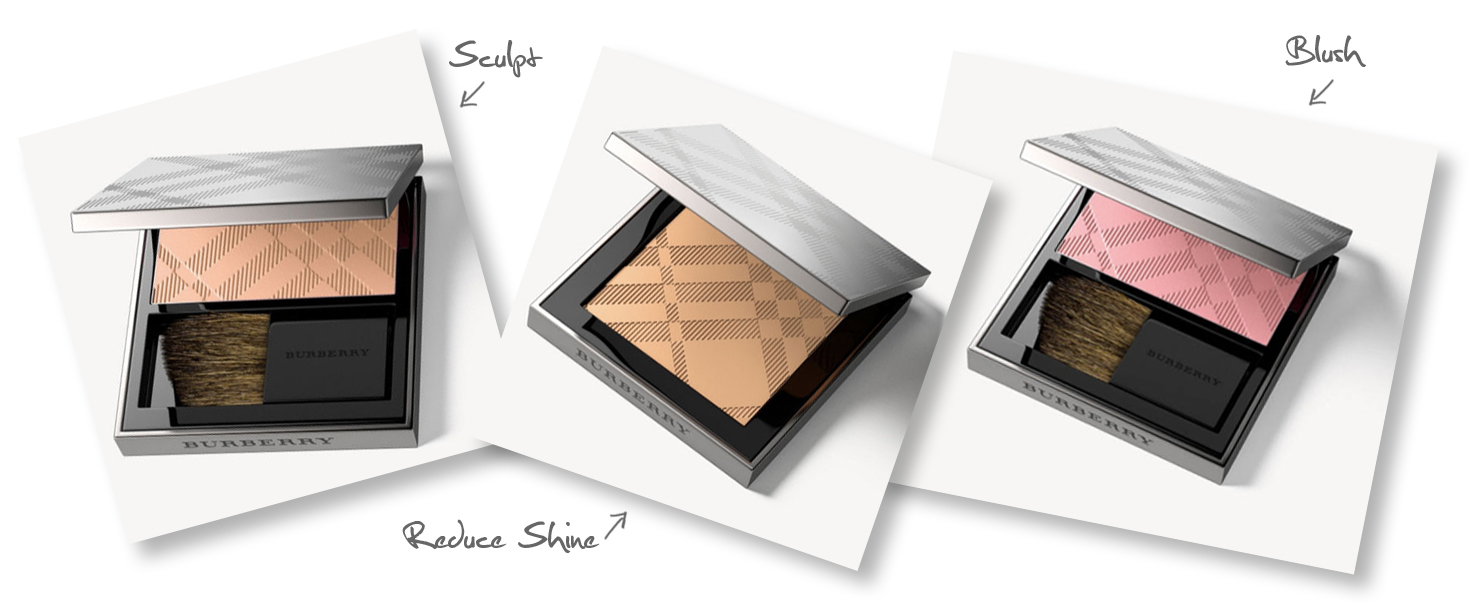 © Wendy Rowe. All Rights Reserved.