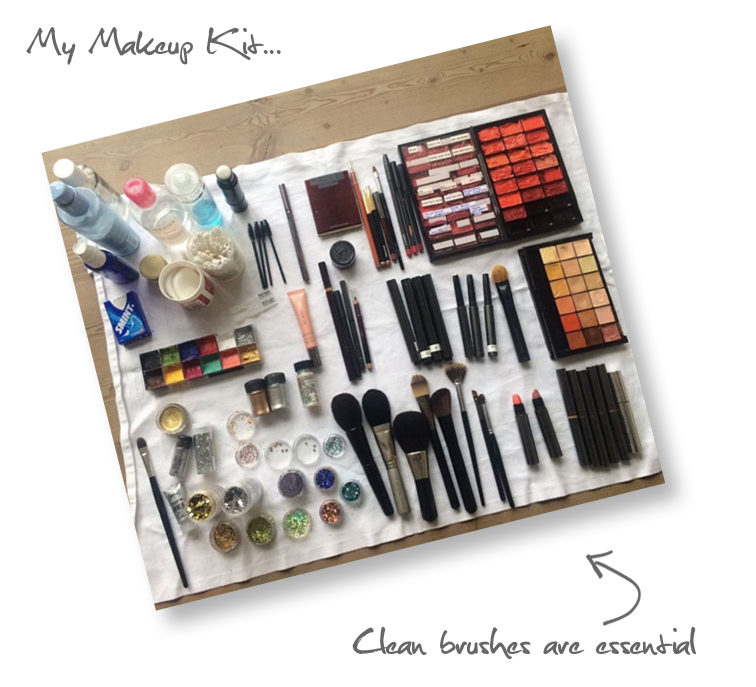 In my professional kit and for anyone working as a makeup artist, it is a total essential to ensure that brushes are thoroughly clean after every use – they have to be completely sparkling clean, disinfected and totally free of any bacteria for every client. I can't risk spreading any infections; cold sores, viruses or anything else so I am super cautious about the cleanliness of my kit – especially my brushes.
THIS POST CONTAINS AFFILIATE LINKS
It's important to shampoo and condition brushes too to keep them soft – not only will they last longer, it also helps to keep them feeling soft when you use them on people's faces.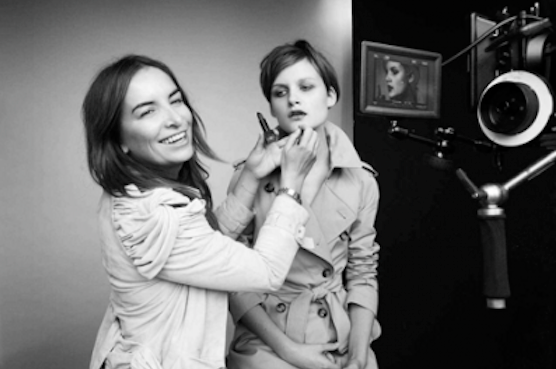 Although it's still important, at home with your personal brushes you should try to clean them once a week as a general rule. If you have an infection or a cold, then make sure to clean them properly after each use, as they can be a hotbed for bacteria. If you are using your brushes at home to apply liquids (foundations, cream blush) then these should be cleaned every day.
I usually use one cleanser containing alcohol to disinfect the brushes and get rid of any bacteria, and then a nourishing shampoo to condition afterwards. Here's my edit of the best:
Disinfectant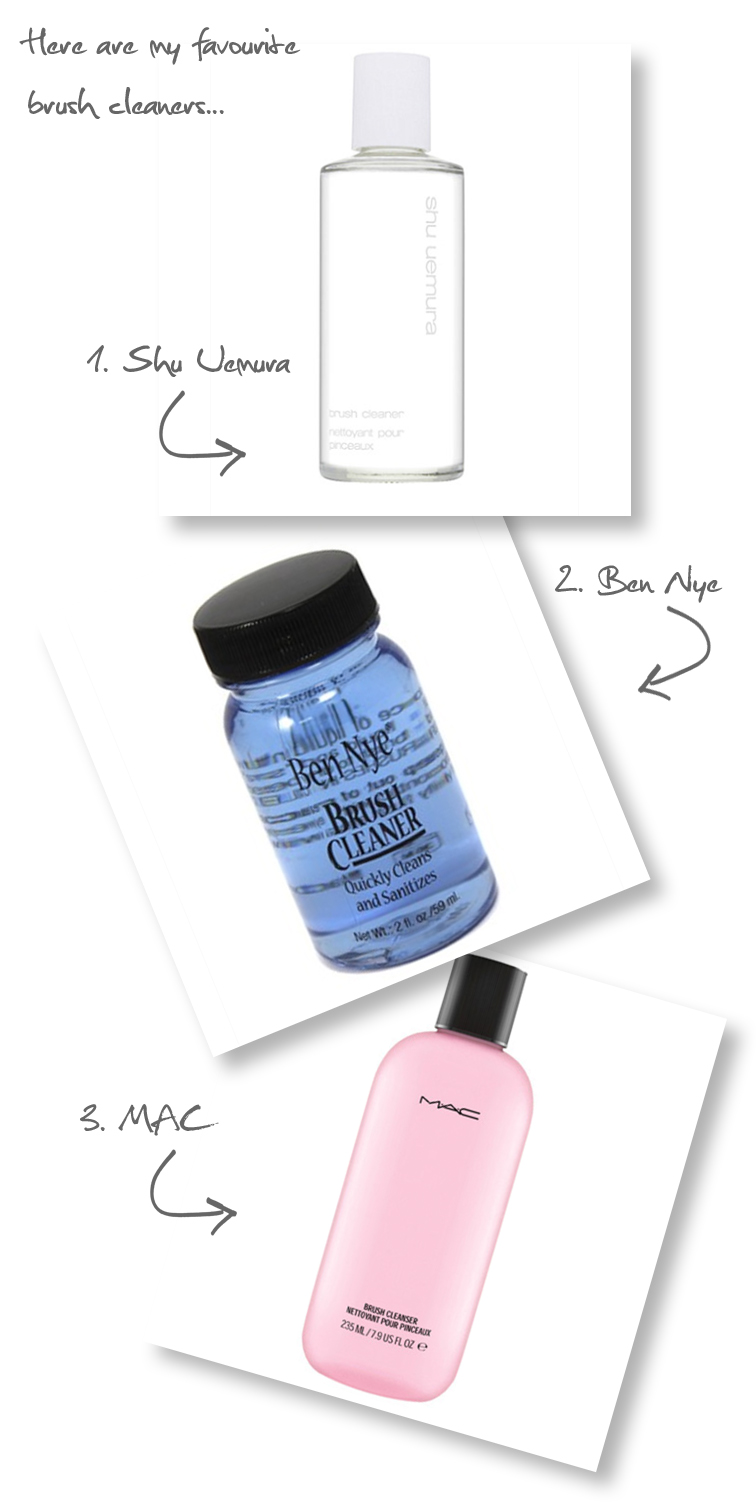 Tip a little into the lid or onto a tissue and gently run the brush back and forth removing any excess liquid on a tissue until the brush is totally clean and all makeup has been removed. You will be able to tell when it's properly clean, as it will run over the tissue without leaving behind any colour or product.
This alcohol-based brush cleaner is perfect for disinfecting and dissolving even the toughest oil based makeup. Tip a little onto a tissue and clean the brush moving it back and forth and in swirling motions. Be gentle so that you don't damage the brush.
This brush cleaner has been formulated to deeply cleanse, disinfect and nourish your brushes all in one. It's fast drying and quick and easy to use – perfect for when you need to clean brushes fast on set or backstage and a great option for a quick clean up of your makeup bag. One thing I would say, is that it leaves a bit of an oily residue on the brushes after they are dry, but a lot of people use this cleanser religiously and don't mind that.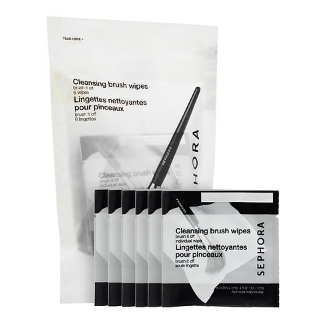 A handy mess free alternative, just unwrap the cleansing wipe and swirl the brush around on the wipe, back and forth until it's perfectly clean. Alcohol free and gentle on the brush fibres, these wipes are great for removing dirt and bacteria on the go.
Nourishing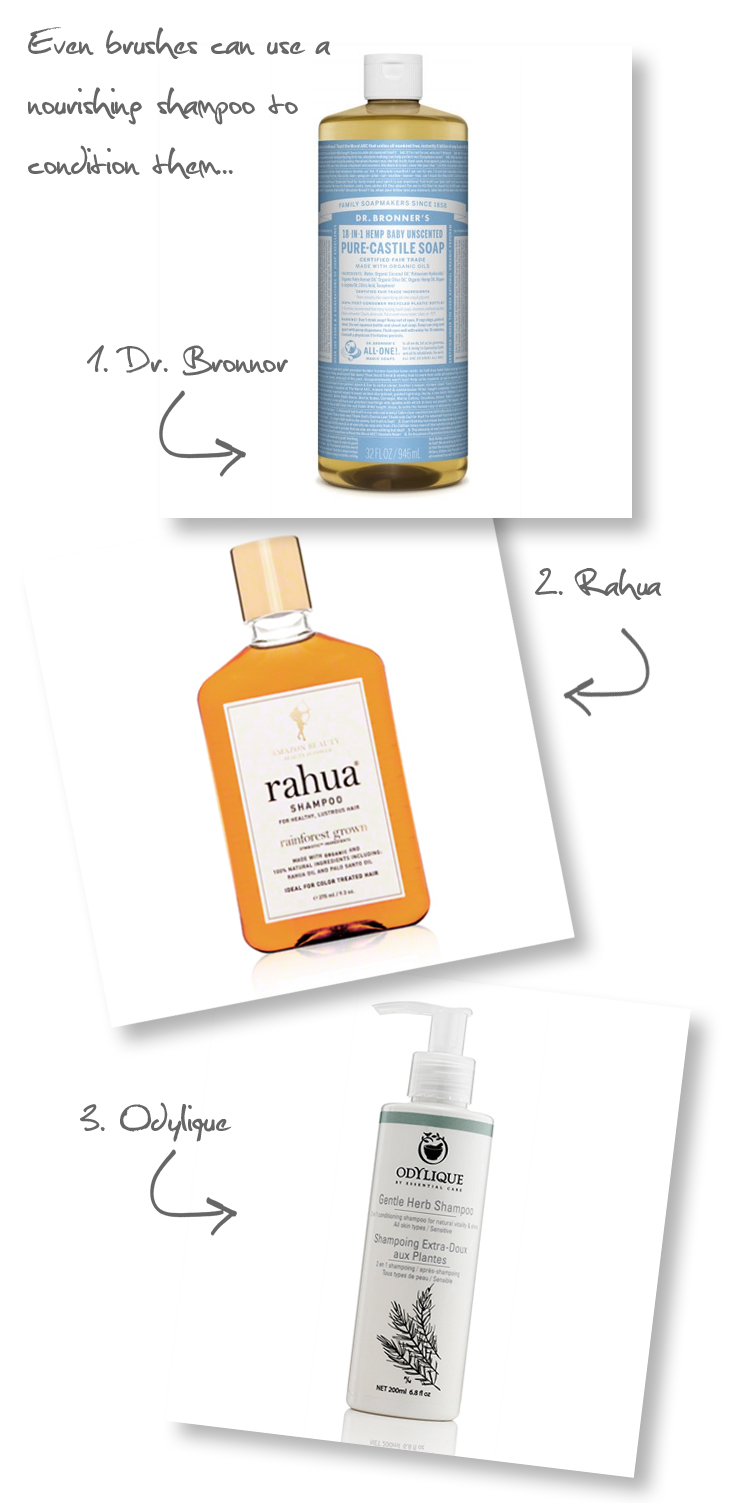 Dr. Bronner products are formulated without any added fragrance which is great, and I particularly love this baby shampoo as it's super gentle, containing olive oil which leaves the brushes feeling silky soft. The soap is biodegradable, suitable for sensitive skin and is made with organic and certified fair trade ingredients, packaged in a recycled bottle. 10/10!
Rahua's Shampoo is nourishing organic and soap free. It is great for protecting, conditioning and cleansing brushes without damaging them or stripping them. Containing Coconut butter and Shea Butter, it helps to disinfect naturally and prevent breakage – it also smells amazing too. Perfect for keeping your brushes soft and in great shape.
Certified by the Soil Association, this herb shampoo from Odylique is 100% natural, offering a gentle but efficient and alternative. The formula is fragrance and sulphate free and contains horsetail to strengthen the fibres, coconut oil to disinfect and condition as well as aloe vera and rosemary. It smells great and is perfect for removing cream textures deep from the root of the brush without damaging it if you've been getting creative!
Top Tips:
A brush isn't properly clean if the handle and the tip of the brush aren't clean – it's not only the bristles that you need to clean! Use a baby wipe or a tissue with some brush cleaner on to make sure the entire brush is clean from end to end.
You don't need to use a lot of product, and especially with alcohol-based formulas, be careful not to soak the brush as it can damage it. A little can go a long way.
Be gentle when you are cleaning brushes – they are expensive and you are better to take time to clean them than rushing it or being too rough!
Ensure that any alcohol brush cleaner has fully dried before using the brush on someone's face.
After washing brushes with shampoo, you need to leave them to dry. Ensure that the end of the brush hangs over the side of a table so that the air can circulate all of the fibres. You could even put them in the airing cupboard to speed the process up.
READ NEXT: Best Foundations for Oily Skin | 5 of the Best Mascaras 
© Wendy Rowe. All Rights Reserved.