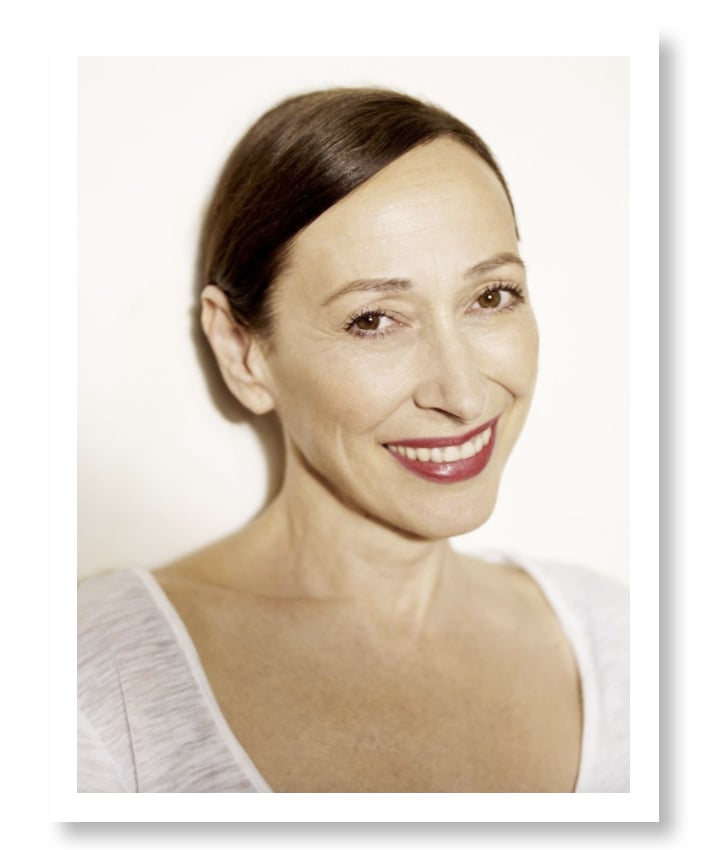 Everyone is starting to become more conscious of what exactly is inside the beauty products they use on their skin day in, day out. There is a lot more awareness about the subject these days, and a lot more choice on the market too, which is great, but can also be misleading.
Rose-Marie Swift has been a Makeup Artist working in the fashion industry for over 35 years, making up some of the most famous faces including Gisele Bundchen, Lara Stone and Miranda Kerr to name just a few. Like a lot of people I speak to about their decision to go natural, it wasn't until Rose-Marie became ill herself, that she started to question what exactly was inside the beauty products and cosmetics that she was exposed to through her work every day.
Growing up with a healthy, outdoors-y lifestyle in Canada, Rose-Marie had never suspected that over the years, her body had absorbed enough toxic build-up to cause physical, mental and emotional health problems. After taking it upon herself to do extensive testing to find the cause of what was making her unwell, Rose-Marie finally received her results and was shocked to be immediately asked whether she worked in the Cosmetic Industry?
Rose-Marie has since made a dramatic shift to an all-natural approach to beauty and food over the years. She shares her useful experiences and tips on her website Beauty Truth and also born out of her personal journey, came RMS Beauty – a cosmetics range that has become a trusted kit staple for me which I love and fully recommend – check it out here.

I caught up with Rose-Marie for a quick Q&A:
Are all things labelled as Organic and Natural good for our health?
Things labeled organic and natural are not always good for your health, you still have to be careful. Organic is a process of growing ingredients without the use of chemicals such as pesticides and fungicides, but "organic is a guarantee of safety NOT quality". Some brands are jumping on the green bandwagon and using it in to their advantage while using inferior ingredients. If you don't read the back ingredient deck (and have some understanding of ingredient decks) you can be completely misled. The word natural means nothing on a beauty product. There are no laws that define or regulate its use and companies are now calling their chemical ingredients "natural".
What makes RMS products different Organic beauty brands?
I have been passionate about creating 'healthy' beauty for over 20 years, which led to RMS Beauty; the first truly organic cosmetic line, combining healthy ingredients with unparalleled luxury and elevating it far beyond the "green" standard. My innovative natural cream range is not only 100% free of harmful chemicals, but also works to heal and nourish, truly making it skincare with mineral color. Our selection of the highest quality raw ingredients, is based on cultivation and processing criteria that sets RMS Beauty apart from others. When a raw material is processed for use in cosmetics, it typically undergoes a lengthy process. I discovered the majority of ingredients used for natural cosmetics (organic or not) go through multiple steps from deodorizing, refining, and fractionating during production and heating to extremely high temperatures during manufacturing. These processes render the 'natural' ingredients equivalent to man-made chemicals, stripping away all beneficial nutrients and enzymes that support healthy skin and life.

What ingredients are used in RMS beauty products?
RMS Beauty products, are formulated with raw, food grade, organic ingredients in their natural state, from cultivation, straight through to manufacturing. Organic ingredients like raw coconut, cocoa and shea butters as well as the highest quality cold-pressed organic jojoba oil contain some of the most powerful, nourishing and healing properties that the skin thirsts for. These oils also have a long shelf life lessening the worries of rancidity and free radical damage to the skin. RMS Beauty also takes extreme care to use minimal heat in the manufacturing process, thus preserving every vital nutrient that nature provides. Unlike today's synthetic counterparts, this technique allows elements such as enzymes, minerals, vitamins and anti-oxidants to remain fully intact to naturally penetrate and rejuvenate skin. For gorgeous, modern color I chose tints from pure, raw, uncorrupted, and uncoated minerals. Resulting from this careful formulation is a color makeup line specifically designed to work synergistically with the skin, rather than just covering it up! When you apply the products, their natural life-giving nutrients interact with your skin to promote hydration, softness, radiance, and instant vitality to your skin. All RMS Beauty products are free of harmful chemicals, synthetic preservatives, synthetic vitamins, and genetically altered ingredients.
What should people try to avoid when they buy cosmetics and personal care products?
Most commonly used beauty products contain known problematic ingredients such as some parabens, dibutyl phthalate, formaldehyde-releasing preservatives, synthetic fragrance (perfumes), DEA, BHA & BHT, triclosan, siloxanes and sodium laureth sulfate, to name a few. Many are known as "gender bender" chemicals that effect hormones, etc. Many cosmetic ingredients are banned in both Japan and the EU where the USA still allows these ingredients in beauty products.
How do you manage to get the bright colours and rich pigments in RMS products naturally?
RMS Beauty shades are made using abundant mineral color. We use a little synthetic color in our red colors, less then .05% of synthetic to get the real modern bright reds. Carmine is a beetle that is used to create red but we do not use it because it makes a terra cotta red not true red. Unfortunately, the industry has no real substitute for bright red at this early stage for organic and natural ingredients. Only time will tell.
Do you ever use any products at work now that aren't natural?
Yes, I do. I need to be prepared for anything on a photo shoot and organic products don't always deliver what is needed. When I use those products, I highly stress the removal of makeup asap after a photo shoot.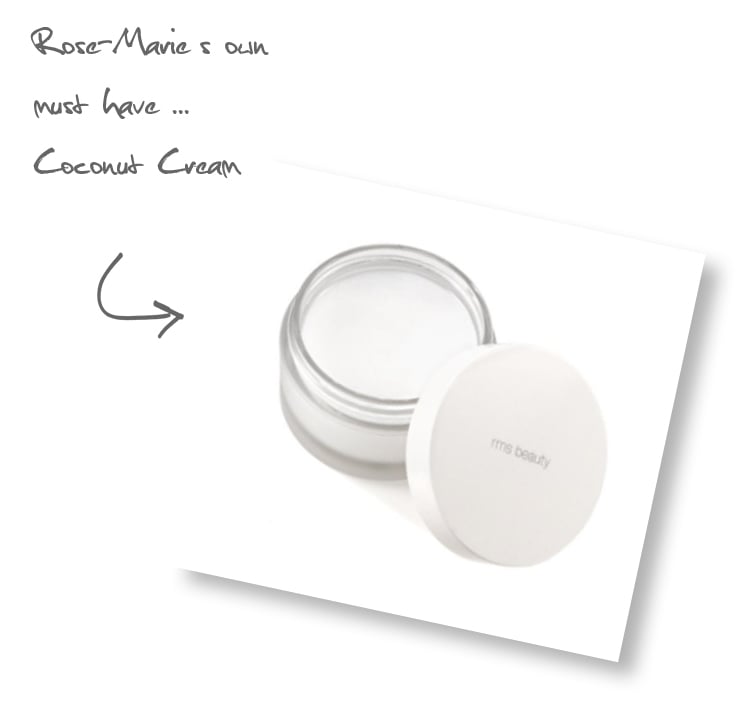 What is your favourite RMS product and how do you like to use it?
My Raw Coconut Cream – hands down, I use it for everything. Makeup remover, moisturizer, sunburn cream, hair conditioner, to clean my teeth and as a mouth wash, shaving legs, deodorant. I eat it for health as well as feed it to my dog and even cook with it. Coconut oil uses are endless. This natural antioxidant is 100% organic, raw and unrefined, aiding in its protective powers against free radical damage—otherwise known as premature ageing. Coconut oil contains high levels of lauric acid, which has antibacterial, antifungal and antiviral properties, making it suitable for even the most blemish-prone skin. Please note that not just any store-bought oil is equal to ours. RMS Beauty is superior over most coconut oils.
© Wendy Rowe. All Rights Reserved.