As you know, my Eat Beautiful approach to diet is all about eating fresh, organic, seasonal produce. And this pomegranate salad recipe from my book is such a quick and easy healthy lunch option, I turn to it again and again at this time of year. Aside from providing a host of nutritional benefits, pomegranate seeds are a brilliant addition to salads because of the cheerful splash of colour and added crunch they provide. Follow my pomegranate salad recipe below, and pack into boxes for a few days' lunches so you can skip the sandwiches this spring…
THIS POST CONTAINS AFFILIATE LINKS
---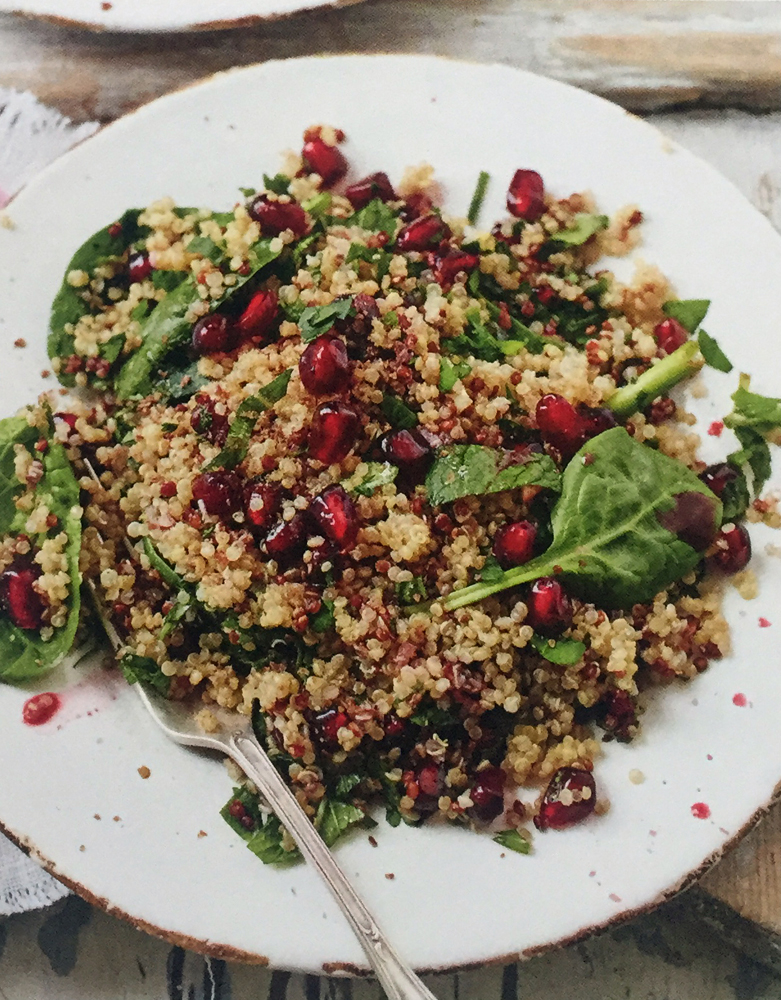 Pomegranate spring salad
I love to sprinkle pomegranate seeds into salads and grain dishes. They add a touch of sweetness and, being bright in colour, they always make the dish look more vibrant.
SERVES 2
400 CALORIES PER SERVING
180g quinoa
1 garlic clove, finely chopped
Handful of pomegranate seeds
Handful of spinach, roughly chopped
Handful of fresh mint, chopped
Handful of fresh coriander, chopped
Handful of fresh parsley, chopped
1 tbsp flaxseed oil
1 tbsp ground flaxseed
Sea salt
Place the quinoa in a saucepan with 360ml of water, the garlic and a pinch of salt. Bring to the boil, then reduce the heat and simmer for 15-20 minutes or until tender and all the water has been absorbed.
Allow the quinoa to cool and then place in a bowl. Add the pomegranate, spinach and herbs and mix together.
Drizzle over the flaxseed oil and sprinkle with ground flaxseed to serve.
READ MORE: What to Eat this Spring 
© Wendy Rowe. All Rights Reserved.