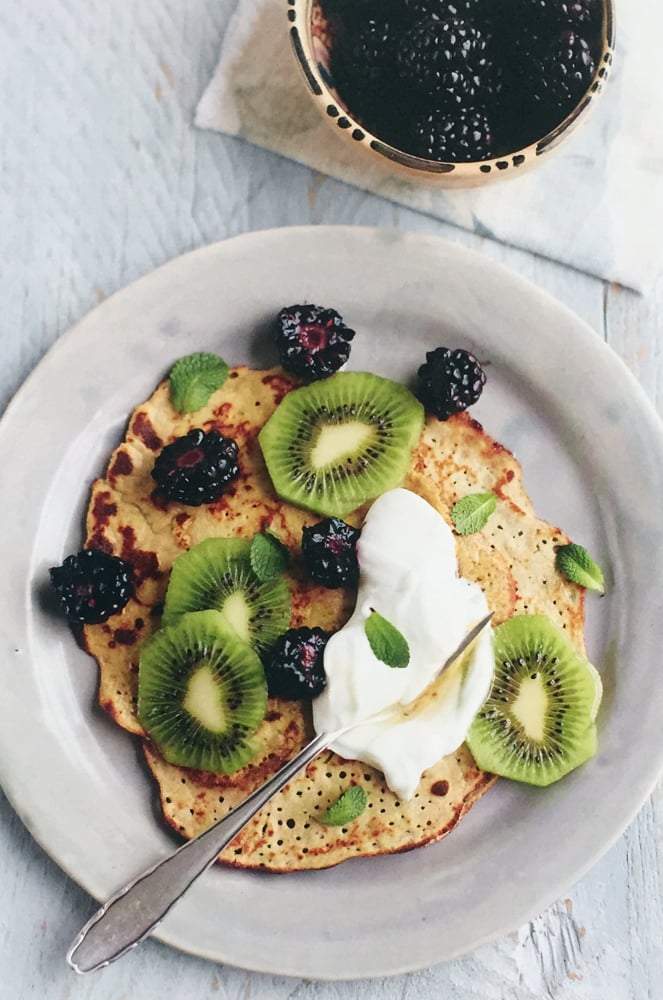 Great skin comes from the inside out, and packing your diet with fresh, seasonal foods is the best way to give your complexion a healthy glow. This season, opt for fresh, summery fruits like kiwis and blackberries, packed with skin-boosting antioxidants to help tackle free-radical damage. Want a healthy breakfast idea to get you started? Check out this healthy pancakes recipe from my book Eat Beautiful, which taste great served with fresh fruit and a spoonful of yoghurt.
THIS POST CONTAINS AFFILIATE LINKS
Healthy Pancakes Recipe: Eat Beautiful
MAKES 4 PANCAKES
183 CALORIES
PER PANCAKE
• 2 tbsp coconut flour
• 4 tsp buckwheat flour
• 1 date, pitted
• 2 eggs
• 150ml unsweetened almond milk
• 1 tsp raw coconut oil
TO SERVE
• 2 kiwi fruit, peeled and sliced
• Blackberries
• Natural Greek yoghurt
• 4 sprigs of mint
I enjoy eating kiwis just as they are – scooping out the delicious tangy-sweet flesh with a teaspoon. At the weekend, when I have more time, I'll make these pancakes and add some berries and yoghurt for a gorgeous relaxed breakfast; the natural sweetness is all that's needed to bring it to life – no sugar necessary. Combining blackberries and kiwi fruit delivers a mega dose of free radical busting antioxidants, topped off with probiotic-rich Greek yoghurt for a feast for the skin!
Place the flours, date and eggs in a food processor and pour in the milk and 150ml of water. Blend all the ingredients together until smooth and transfer to a jug.
Melt the coconut oil in a non-stick frying pan. Pour or ladle enough pancake batter into the pan to cover the bottom of it in a thin, even layer.
Cook the pancake over a medium heat for 3–4 minutes or until golden brown on the bottom, then carefully flip over using a spatula and cook the other side for another 2–3 minutes. Slip on to a plate and continue making pancakes until the batter is used up.
Serve the finished pancakes with slices of kiwi fruit, a sprinkling of blackberries and a spoonful of Greek yoghurt. Garnish each one with some mint.
MORE RECIPES: Skin-Boosting Breakfast Wraps | Date Energy Bites | Skin-Friendly Frittata
© Wendy Rowe. All Rights Reserved.