Summer is a great season for healthy eating. Whether it's salads packed with nutrient-rich fruit and vegetables or frozen power smoothies to start your day right, there are plenty of summer superfoods to add into your diet to keep things interesting. If you haven't got it already, you should check out my book Eat Beautiful, which is organised by season with plenty of healthy recipe ideas to help support gorgeous, glowing skin. One of this season's best ingredients for skin is the courgette, or zucchini if you're in America or Australia. It's such a versatile fruit (yes, it's technically a fruit not a veg!); they are gorgeous shredded into a salad, chopped for a goulash or roasted and drizzled in oil. Delicious!
THIS POST CONTAINS AFFILIATE LINKS
One of the great things about fruit and veg in the squash family is that they're high in water and low in calories, and packed with nutrients. A 150g serving of courgettes delivers 37% of your Vitamin C and more than a gram of dietary fibre. The skin holds many of the nutrients, so never peel them before enjoying. They are packed with the skin's favourite vitamins A, B and C to help fight free radicals and reduce inflammation while tackling premature ageing.
---
Sold? Check out my recipe for courgette and brown rice spaghetti.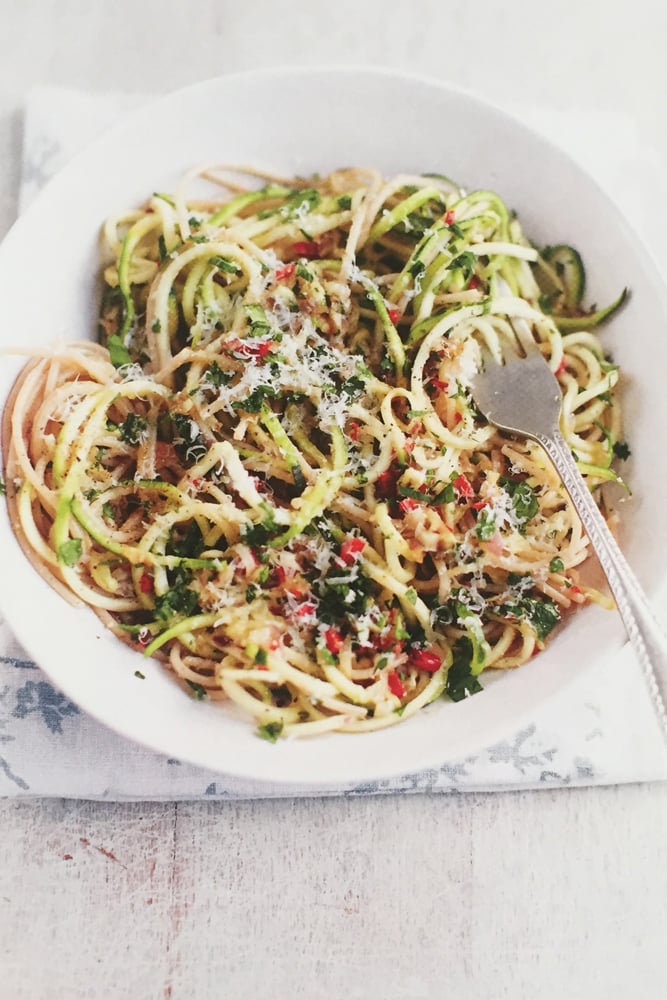 Green Juice Recipe
Courgette is also great in juices and smoothies, so start your summer morning with a super fresh green juice, packed with nutrients to help you feel healthy and clear.
Ingredients
1 Courgette
Half a cucumber
3 Sticks of celery
Handful of mint
Half a fennel
A thumb of ginger
Half a lemon
METHOD
Add all ingredients to a blender and blitz until smooth. Enjoy!
READ NEXT: Summer BBQ Recipe Ideas | Healthy Kiwi Pancakes
© Wendy Rowe. All Rights Reserved.