Ever since I first worked with Victoria, I could tell she had a real passion for makeup and that she really knew her stuff when it came to beauty. It goes without saying that I've been dying to get my hands on her new collaboration: Victoria Beckham x Estee Lauder ever since it's announcement, so I was really honoured to be one of the first to try out the range and to debut it on Victoria for the red carpet last week in Cannes.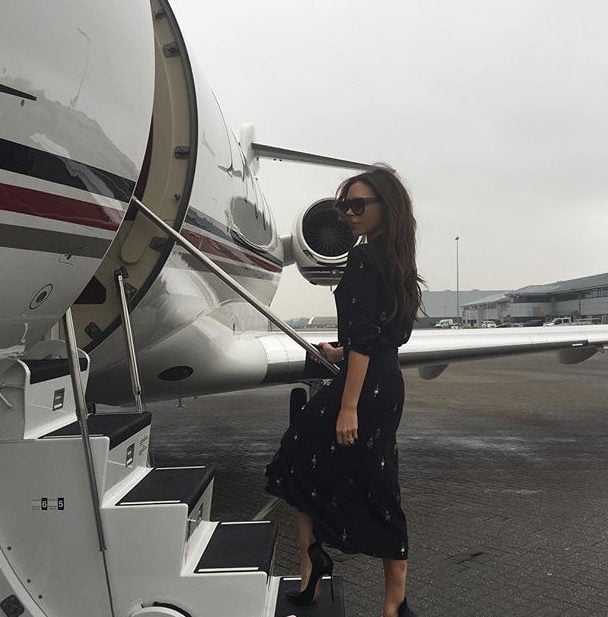 Almost as soon as I arrived, Victoria excitedly revealed the exquisite-looking range to me, reeling off information about pigments and formulas like an expert as we started discussing ideas for her red carpet beauty look.
"This is my opportunity to share and develop, and really give that to women everywhere. I'm very excited to be able to do that"

Victoria Beckham on her collaboration with Estee Lauder
Victoria showed me her outfit – a modern take on the tuxedo – a stunning, slightly masculine inspired jumpsuit from her own range, teamed with Chopard jewels. We decided that a modern smoky eye and a nude lip would work well for the makeup, whilst Victoria's Hair Stylist, Ken Paves, wanted the hair to echo the glamour of Cannes in the 1960's, combined with Victoria's cool and effortless London style of today. Ken decided on a chic style that looked like Victoria had done it herself, creating lived in texture and an un-done feel, using products from his You Are Beautiful range.
Given that Victoria had just touched down in Cannes by private jet, I began by using Sarah Chapman's 3d Moisture Mask and applied Crème de la Mer Moisturising Lotion to re-hydrate the skin as a base. Once I had finished prepping Victoria's skin, I started the makeup look by applying Burberry's Fresh Glow Foundation and Sheer Concealer to create dewy-looking, flawless skin.
For the rest of Victoria's makeup look, I worked exclusively with products from her new range and was amazed at how easy it was to apply; the formulas and textures are so flattering.
I wanted Victoria's eye makeup to look modern and effortless, so I blended colour onto the lid and outwards from the crease of the eye for an elongated shape. I also applied a little of the colour underneath the eye to connect it and create a smoky haze effect. I sculpted Victoria's face to enhance her facial structure and filled in the shape of her brows for a natural look to keep the makeup feeling fresh.
To complete the look, I created a paired-back nude lip for Victoria and applied moisturiser to her back, arms and chest for a flawless red carpet finish.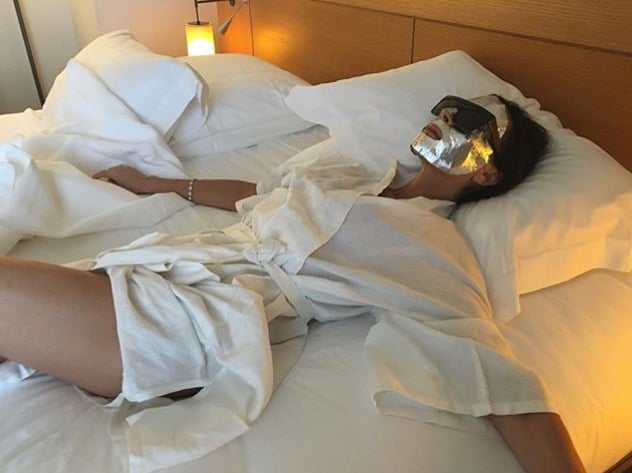 Image Credit @ Victoria Beckham Instagram
Get Victoria's Hair: Ken Paves
I prepped Victoria's damp hair with my Volumizing Whip from roots to end. I then sprayed my Volumizing Spray generously at her roots to crest my base, before drying the hair using my fingers rather than a brush to encourage her natural texture for a modern feel. Once Victoria's hair was nearly dry, I used a mixed bristle Mason Pearson brush at the roots for lift and on the ends for a smoother finish. I like to leave a lot of natural texture in the mid shaft.
Once the hair is dry and I have created the texture and root lift I am after, I spray my hands with my Flexible Hold Hairspray and use my fingers to create separation and rake it back into a ponytail, fastening in place with a hooked elastic band. I then wrap the hair around the base of the ponytail letting some bits fall out of place so that it looks as though she did it herself. Once I have the shape I want, I secure it in place with curvy grips.
The detail around the face is very important. I individually pin the strands I kept out when I swept it back to give the look personality and randomness, spraying in between the bits to keep them separated so it looks effortless. That's it. Finish with a couple sprays of my Ken Paves Flexible Hold Hair Spray and hit the carpet!!
Directed by Wendy Rowe
READ NEXT: Get the look with Victoria Beckham | Victoria Beckham Denim
© Wendy Rowe. All Rights Reserved.