Lucia Pieroni is one of the biggest talents in the MUA world. With her catalogue of work with Mert Alas & Marcus Piggott and David Sims to name but a few, plus multiple Vogue covers and top campaigns in her portfolio, she's always brought something unique to her work, making her a fixture backstage at fashion month. She's a very good friend and her work is modern and always beautiful. For the SS19 shows, Lucia worked on Christopher Kane, Roberto Cavalli, Poiret and Alexander McQueen, where she created some of my favourite looks on the catwalk this season.
What we learnt from Lucia Pieroni's SS19 looks…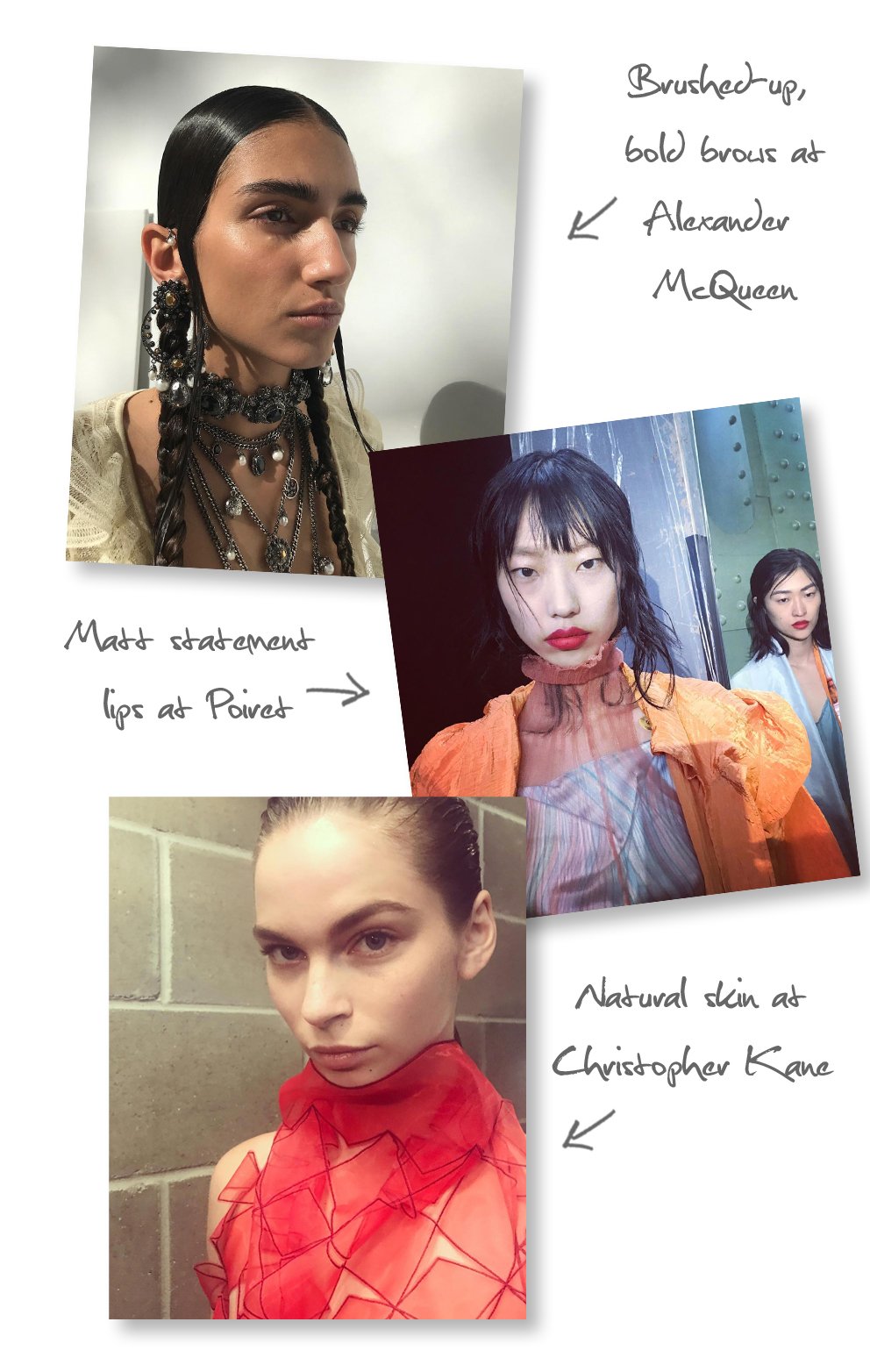 Brushed-up brows can look polished
At McQueen, Lucia created the perfect makeup look to complement Sarah Burton's dramatic collection. Brushed-up, bold brows gave a strong, rebellious look, which was softened with glowing, polished skin and nude, moisturised lips. If you're working one harder element to your makeup look, it's a good idea to soften it with a polished, natural contrast.
Matte lips and matte skin for spring
Lucia's look at Poiret saw some models working statement matte red lips. The soft blurred colour and matte finish was made more polished with precise outlining. Spring / summer skin is often all about glowing skin and bronzed tones, but Lucia proved with her Poiret look that matte skin and matte lips can be a great, fresh option for spring.
Imperfections can be sexy
As you know, I'm a lover of nude makeup looks. Real skin is always at the heart of my favourite looks, which is why I love Lucia's Christopher Kane look. The collection was all about sex and nature, and yet the makeup look was all about barely-there colour and boy brows, proving that sex appeal comes from what's inside, not covering up your beauty.
Stay tuned to Lucia's Instagram for more inspiration
READ NEXT: My guide to SS19's biggest trends | 10 of the Best Mascaras
© Wendy Rowe. All Rights Reserved.