With the summer in full swing, and plenty of warm weather and sunshine, it's important to make sure you're getting enough water in your diet. A lot of people think that just means drinking more, but you can actually get a lot of water naturally from the food you eat too, if you opt for fresh, seasonal ingredients that are naturally rich in water content. Things like courgette, cucumber and watermelon all come into season and contain the nutrients our bodies need to keep us feeling energised and to make sure our skin stays looking fresh, hydrated and flawless.
My Courgette and Brown Rice Spaghetti recipe from Eat Beautiful is a great quick and easy meal that anyone can prepare from scratch. Its super healthy but really delicious and something I always enjoy eating in the Summer.
THIS POST CONTAINS AFFILIATE LINKS
---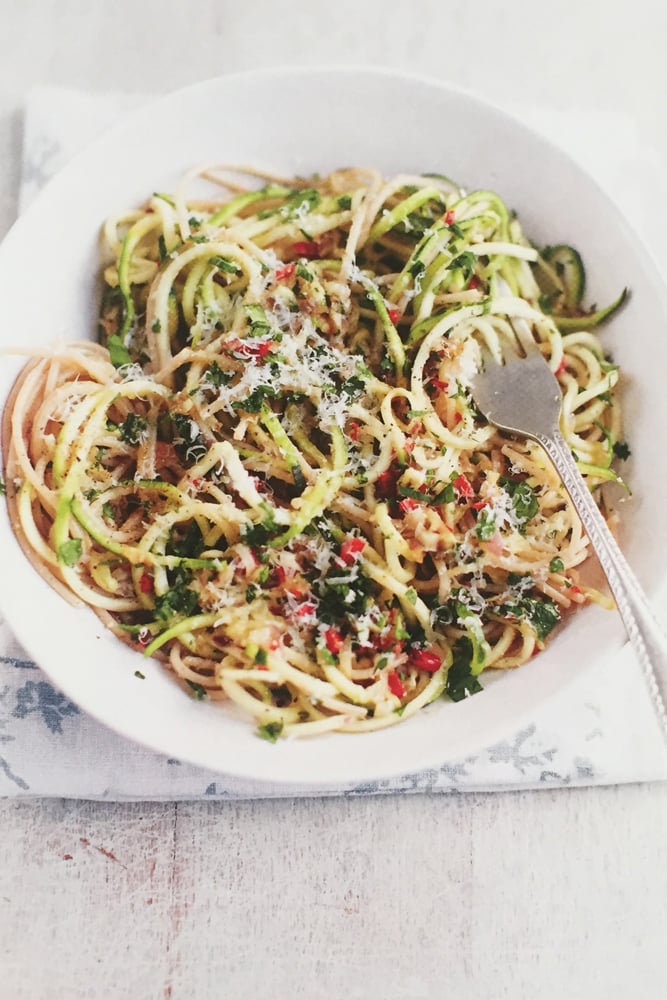 Courgette and brown rice spaghetti
Serves 2
469 calories per serving
3 tbsp olive oil
2 shallots, finely chopped
3 garlic cloves, finely chopped
1 large courgette, spiralized
75g dried brown rice spaghetti
Handful of fresh flat-leaf parsley, finely chopped
Finely grated zest of 1 lemon
1-2 fresh red chilly, deseeded and finely chopped
Sea salt and black pepper
30g Parmesan cheese, grated, to serve
Courgettes are tailor-made for using with a spiralizer to create courgette spaghetti or 'courgetti'. Unlike standard wheat pasta, you won't be left feeling bloated and overly full, so you can indulge to your heart's content! I first learned about courgetti from my celebrity clients who were trying to get in shape, but it has since become part of the mainstream. I've actually added in a little cooked spaghetti to bulk out the dish, using brown rice spaghetti, which has the advantage of being gluten-free as well as a fantastic source of skin-boosting B vitamins. If you're focusing on weight loss, simply omit the spaghetti; if you're hungry, keep it in. Ideally, you'll have a spiralizer really for this recipe, but if you don't, you can peel the courgette into strips with a julienne peeler.
Add 1 tablespoon of olive oil and the brown rice spaghetti to a pan of boiling water and cook according to the packet instructions (about 12 minutes) or until tender. Drain the spaghetti in a colander and leave to sit for 1-2 mins.
Meanwhile, heat 2 tablespoons of the olive oil in a large, deep-sided frying pan or wok and add the shallots and garlic. Cook over a medium heat for about 2 minutes or until soft.
Add the courgette noodles and season with a little salt and pepper, then cover the pan with a lid and steam for 5 minutes.
Add the parsley, lemon zest and chilli and remove from the heat.
Add the drained spaghetti to the saucepan and combine with the courgette sauce.
Divide between plates and serve sprinkled with grated Parmesan.
Why not give it a go and tag me on Instagram @wendyrowe #eatbeautiful so that I can see all of your gorgeous creations!
MORE RECIPES: Wild Rice Salad & Frozen Banana Lollies | Skin-Friendly Frittata | Pomegranate Salad 
© Wendy Rowe. All Rights Reserved.