The good news is, that in moderation, organic red wine is actually good for the skin. Organic red wine is rich in antioxidants and tannins, which help to boost the skin and slow down the ageing process. Ready to get festive? I'm sharing my favourite healthy mulled wine recipe to help spread the Christmas cheer.
Cheers to that!
THIS POST CONTAINS AFFILIATE LINKS
---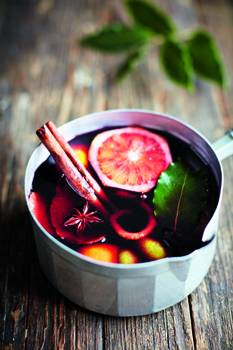 Healthy Mulled wine Recipe
SERVES 12
112 CALORIES PER SERVING
3 oranges, juiced and peel cut into strips
1 lemon, peel cut into strips
1 lime, peel cut into strips
2 tbsp honey
2–4 cloves
1 cinnamon stick
2 bay leaves
1 tsp grated nutmeg
1 vanilla pod, halved and deseeded
2 × 750ml bottles of natural red wine
2 star anise
As a special festive treat, is there anything better than a glass of mulled wine? I love the spicy aroma of the red wine warming in a pan on the hob – perfect for a chilly winter evening to enjoy with friends.
Place the cut peel from all the citrus fruit in a large saucepan and add the honey, cloves, cinnamon stick, bay leaves and nutmeg.
Throw in the halved vanilla pod and the orange juice and pour in just enough wine to cover all the ingredients.
Bring to a simmer to dissolve the honey, then increase the heat and boil for 5 minutes or until the mixture has thickened to a syrup-like consistency.
Add the star anise, followed by the rest of the wine. Increase the heat to allow the mixture to warm through for a few minutes, and then serve.
---
MORE RECIPES: Naked Fish Pie | Squash Fritata | Kale Soup
© Wendy Rowe. All Rights Reserved.