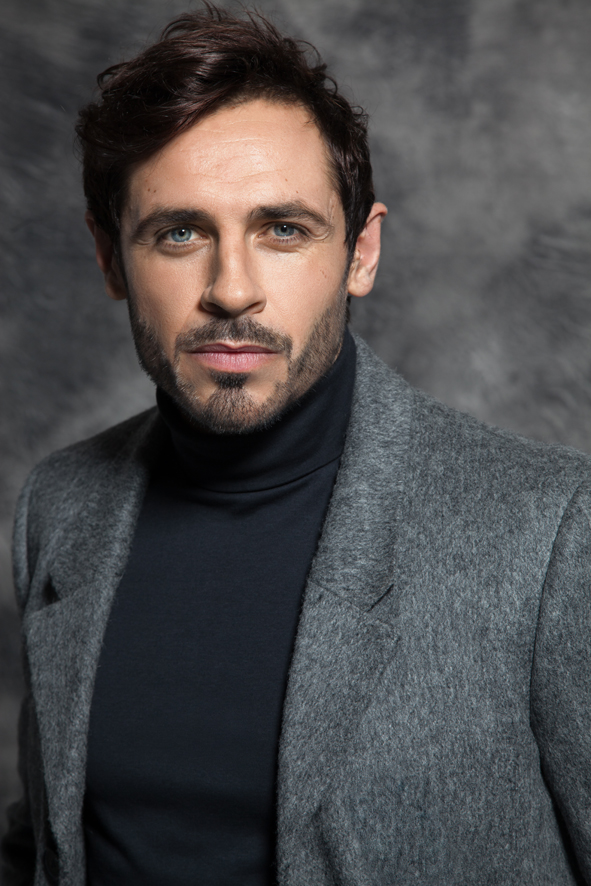 Often, people perceive models to be "perfect", those lucky people who are born with amazing genes and look flawless at all times, but in reality, just like the rest of us, models can fall victim to stress occasionally too, and sometimes it shows up physically.
Usually, when it comes to male grooming backstage, that involves skin prep, a bit of concealing, some lip balm, groomed eyebrows, a bit of contour pen and maybe neatening up, or removing facial hair depending on the look, but when I recently met male model Sam Barham on a shoot, he had a slightly different requirement. When I asked Sam to come over to the makeup chair, he told me he had alopecia and that he'd bought a few things with him which he usually used to conceal it with – just in case. His alopecia wasn't something I had noticed when he'd first arrived on set – Sam is a pro at arranging his hair to conceal any patches, and it was only the discolouration of parts of his beard once he'd pointed it out to me, that gave it away when I looked closer.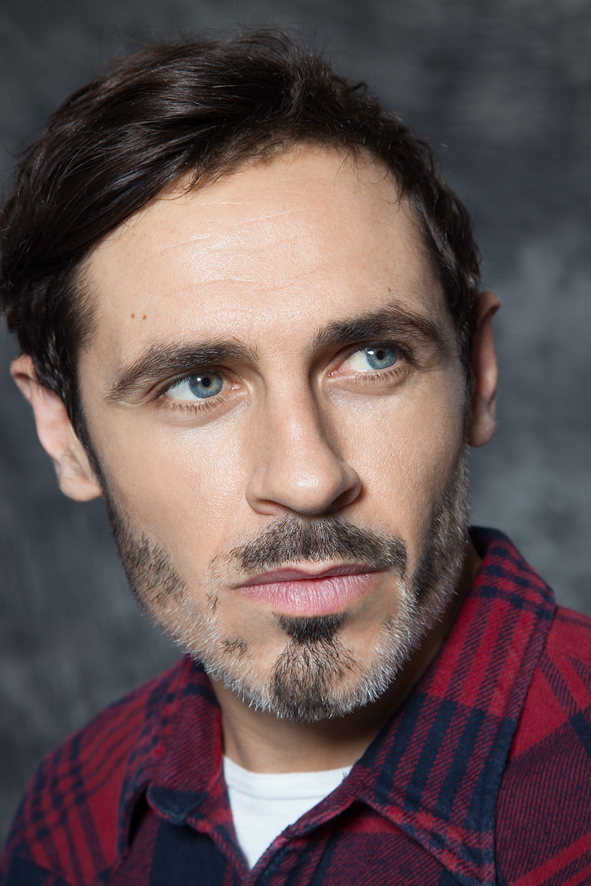 For someone who is expected to look great all the time as part of their job, something like alopecia or a skin condition can add even more stress to the mix and can be really distressing. Sam is using his experiences to raise awareness about alopecia and mental health, so we caught up with him to ask him a bit about his story.
Q&A with Sam
Did your Alopecia happen suddenly or did you just notice a patch appear out of the blue?
The first patch I noticed was actually in my groin area. At first I didn't really pay it any attention, but then I noticed it got a little bigger and no hair had grown back. To be honest I thought I might have caught something, I wasn't sure how I had if I did, so I decided to go to the sexual health clinic and be tested, but my results came back all clear. Alopecia was the last thing on my mind at that point, but then I started getting a patch on my beard and again, at first I had no clue what it was. After speaking to my brother (he had suffered from Alopecia 10 years ago) I realised I probably had Alopecia too. The existing patches grew and finally, I noticed patches in the hair on my head as well and the hair loss continued for around 6 months.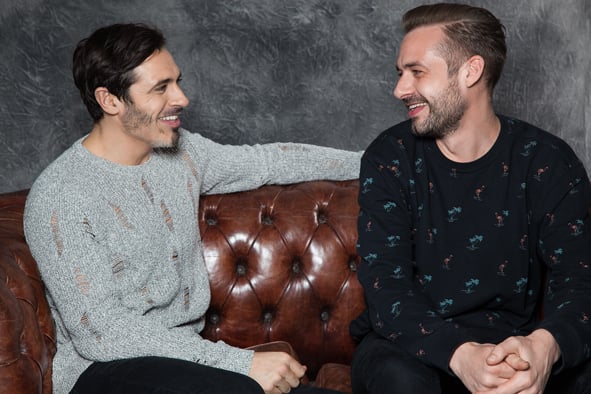 How did you cope with it being a model?
To be honest, I didn't cope with it very well at all to begin with. When something like this happens it immediately knocks your confidence. I am quite fortunate to have hair that is full enough normally, that I was able to arrange it in a way which covered the patches, but as they grew, this became harder. It didn't help that I am marketed with a beard in my portfolio as a model. Almost all of my shoots are with facial hair and I know I look better with a beard. Initially, it was a lot harder to disguise the loss of facial hair – I had to learn techniques to cover the patches myself for castings as I didn't want to turn up to a job and for people to feel disappointed that I didn't look the same as I did in my portfolio.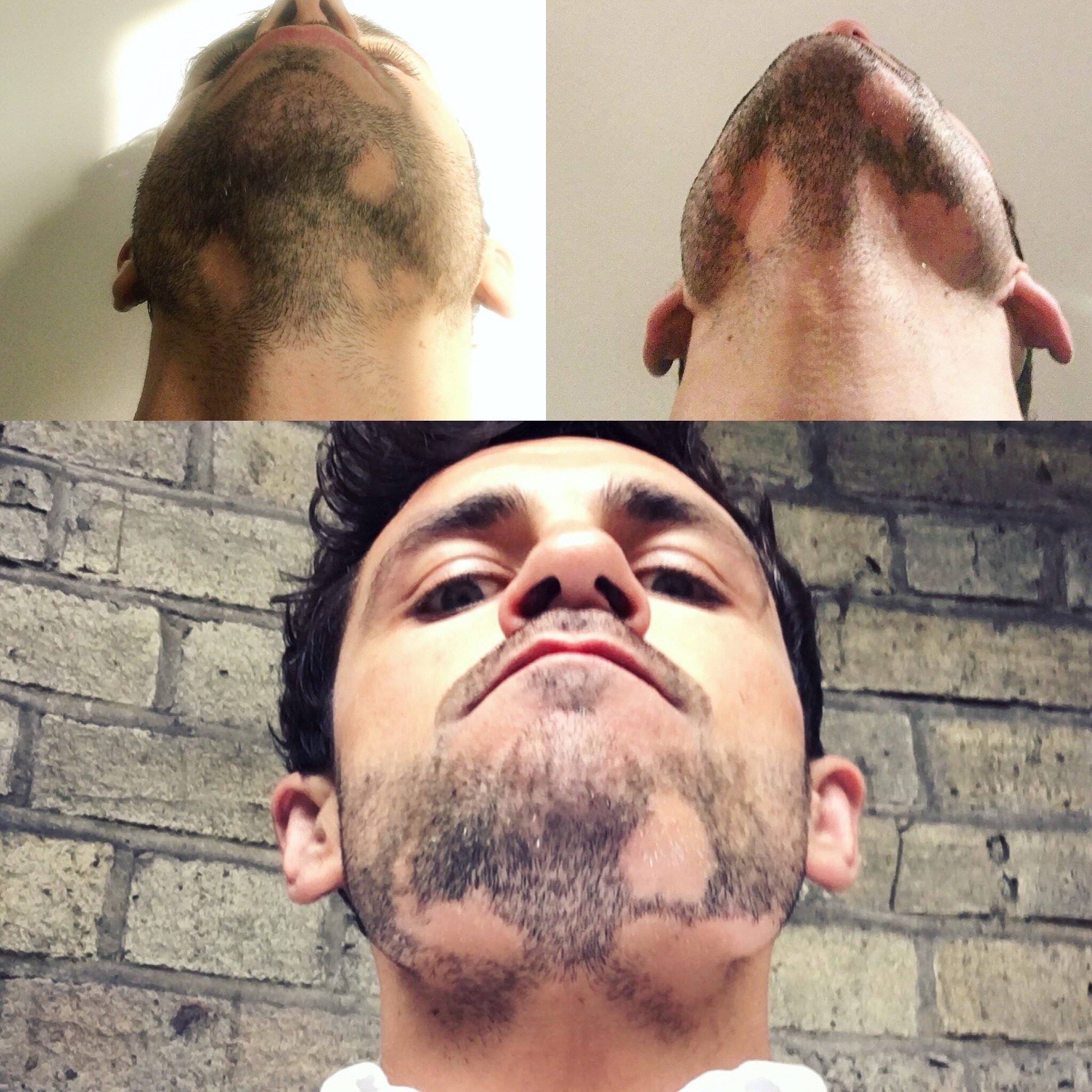 Why did you decide not to have steroid injections?
This was quite an easy decision for me because I have my brother who had gone through the same thing and his hair/beard had all returned after around 2 years (start to finish), so I was confident this would be the same for me. Yes, I wanted it to be quicker than that due to the nature of my work, but because of the risk associated with steroids, for me it was not worth it given the potential side effects, which could have caused further issues with my appearance and general health. If I hadn't have had the experience of my brother, then my decision not to have steroid injections may have been different, but I would certainly discourage anyone from exploring that option when there are other alternatives out there.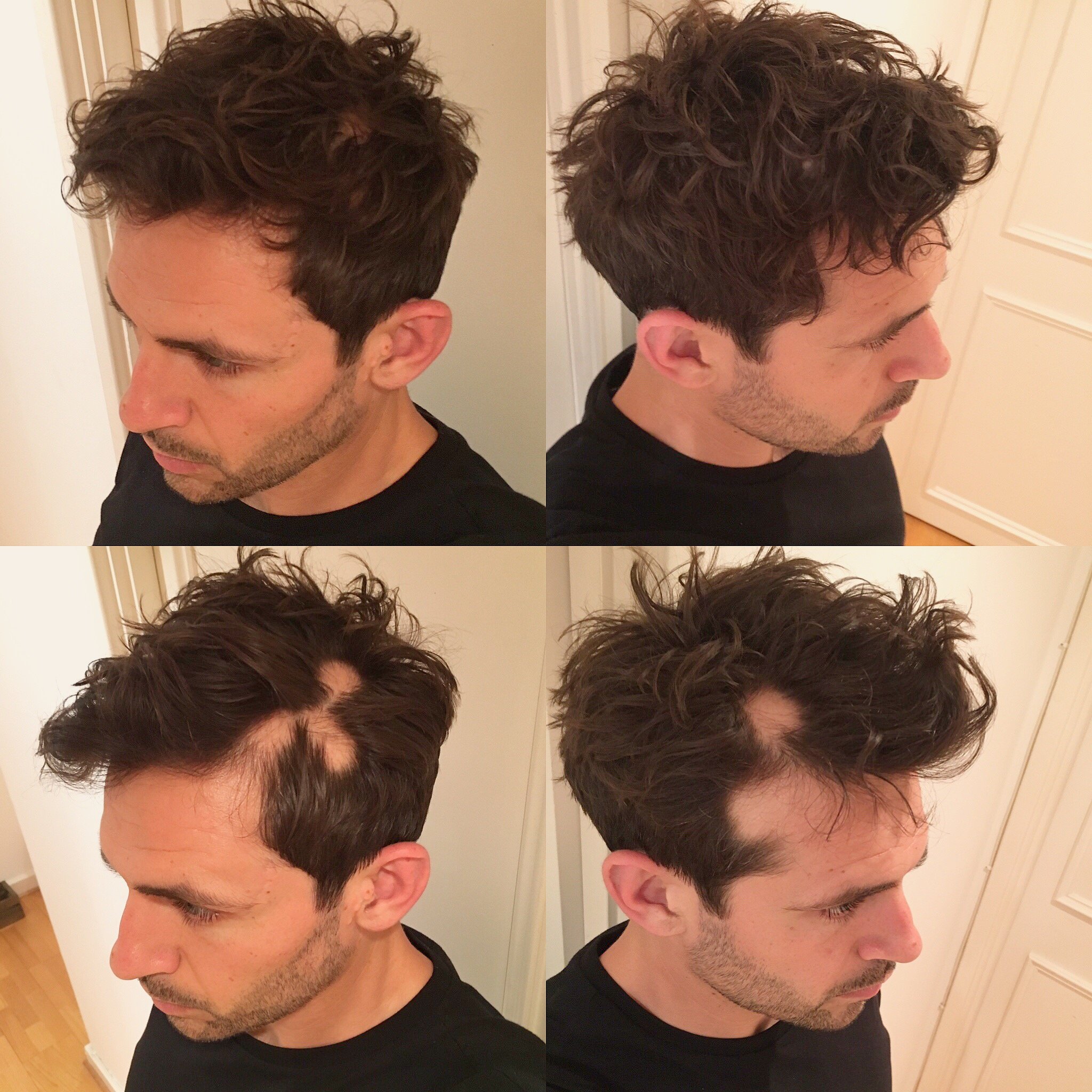 Did come about during a stressful period in your life?
Yes. I was incredibly stressed in the time leading up to the hair loss due to numerous changes in my life that had all come about at once. At the time, I felt unable to see the light at the end of the tunnel. I've always been someone who had the answer to any issue. If something is wrong – fix it. If you don't like what you do – change it; a very black and white take on things. All of a sudden I was in the massive grey area, spiralling closer to depression and I felt the burden of feeling that I needed to fix everything. I found that the cathartic nature of opening up to my brothers was a massive turning point for me. From then on, things took a dramatic change. Life was more positive. I was more positive.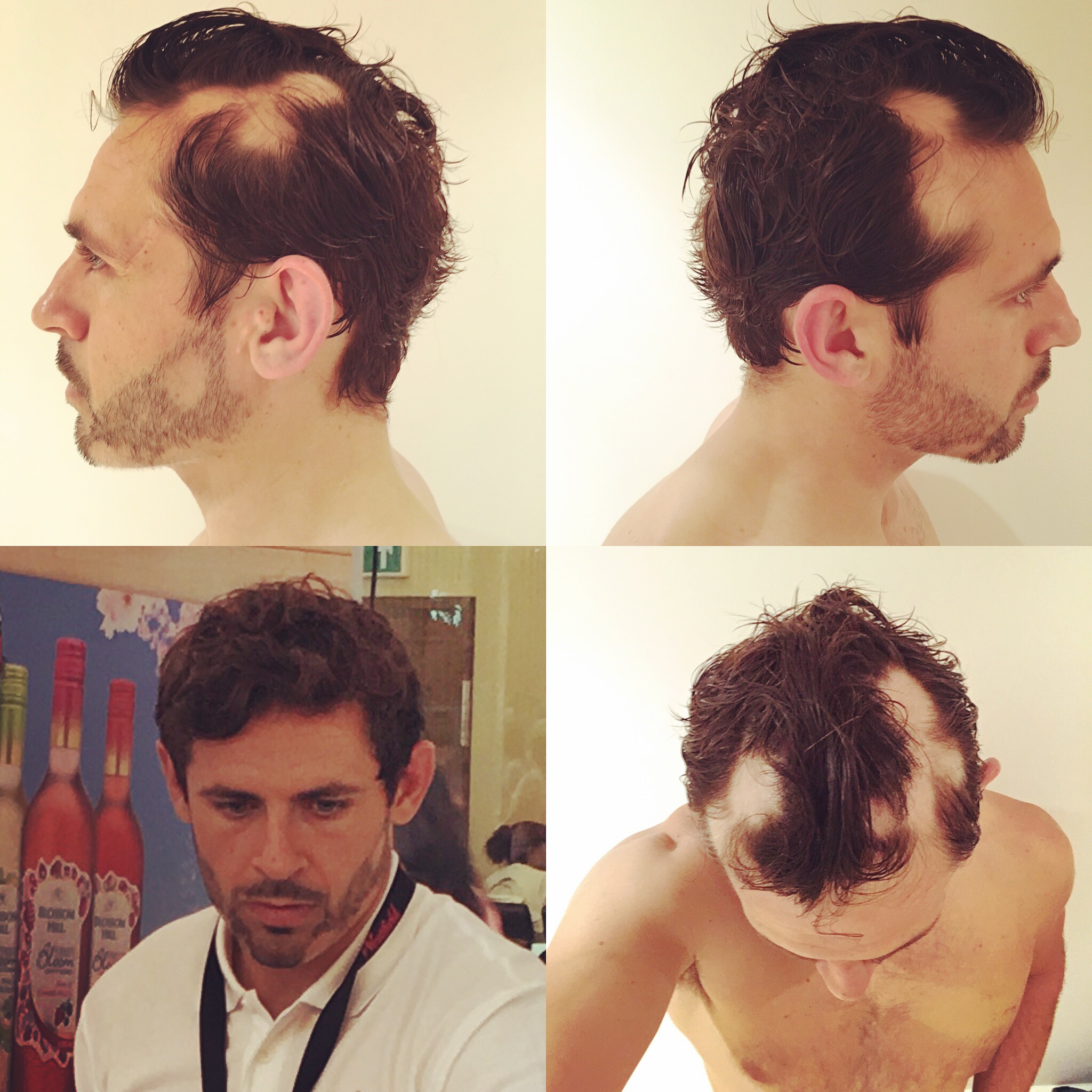 Were there any untraditional treatments that helped you?
Obviously I didn't want to go down the steroid route (although I don't think that would have helped my beard anyway) and I was told about Acupuncture as an alternative. A Makeup Artist at a shoot had mentioned that she and friends had used it for their autoimmune conditions with great results and knowing that there were no real side effects from this type of treatment, I was keen to give it a go. I have always struggled with sleeping too so I was really pleased to find that it helped me with sleeping as well as the alopecia. Personally, from my experiences with acupuncture, I can say I loved it. It was incredibly relaxing and I always fell asleep during the session, even though you have pins sticking in you! My acupuncture treatment was combined with Chinese herbal medicines, which I took twice a day and my hair seemed to return fairly quickly once the treatment had started.
Did you find anything to conceal it?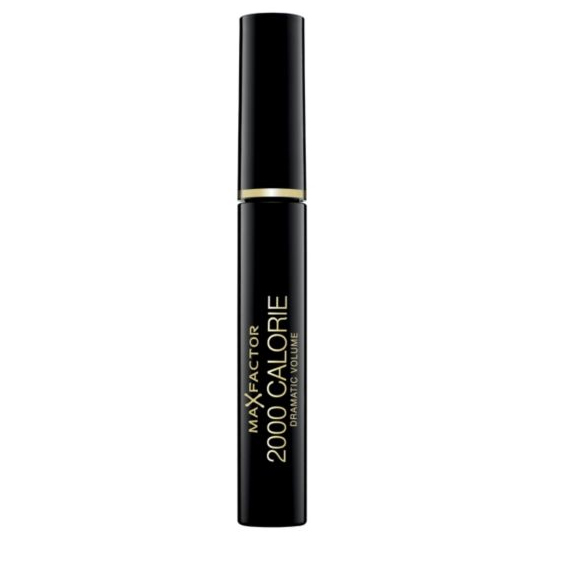 At first my hair grew back white, before slowly coming through grey and then the main pigmentation returned. The power of make-up and hair products can never be underestimated. I very quickly became a pro at covering my patches and was fortunate that the hair I did have was quite thick. Not having my hair cut for a while meant I could use it along with a few products to hide the patches. Where there were gaps, I would have to use make-up on my scalp – once it was coloured it was hard to tell, especially on camera. As for the beard, I had to get creative. I am marketed with stubble/beard so shaving wasn't really and option and I discovered that the trick here was mascara! Once the hair started to return, it came back white so I had this little brain-waive of trying mascara to colour in the hair. After some dodgy first attempts it seemed to work. I now rely on Max Factor 2000 Calorie mascara in Black as the brush gives the best coverage without making it too obvious.
---
Sam is really active and loves keeping fit. Amongst other things, he enjoys wake boarding, rock climbing and swimming so he decided to take a 3-week holiday to Bali for a bit of adventure during his journey with alopecia, where he partook in regular physical activity outdoors. When the UV rays form the sun lightly burn the skin, the immune system focuses on repairing the skin instead of attacking the hair follicles so it can be a very effective treatment.
Sam also cut out alcohol and ate healthy, freshly prepared meals all of which he thinks helped to boost his recovery.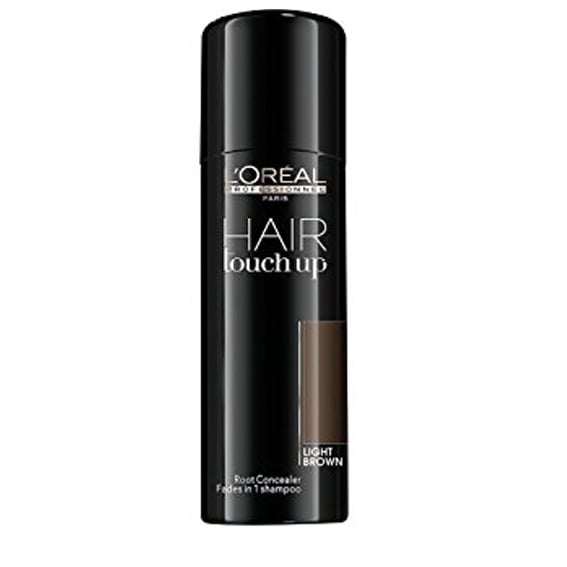 Quite out of the blue, after meeting Sam and chatting to him about his experiences, I actually noticed that I had developed a patch of hair loss myself for the first time as well! When I thought back about it, it had been a stressful period a few months before. Fortunately the hair has started to grow back quite quickly and I was able to cover it by changing my parting, but Hair Stylist Ken Paves helped me out and gave me a L'Oreal Hair Touch Up Spray product to help me conceal the patch of skin at the roots, which really worked well.
Sam is currently based in South Africa from January until April 2017 and is represented by Twenty Model Management.
Follow Sam:
INSTAGRAM @sbarham #alopeciaboy
© Wendy Rowe. All Rights Reserved.