6 key ingredients to have in your store cupboard
Milled flax seed
Coconut oil
Eggs
Spinach
Ginger
Lemons
MAKES 4 PANCAKES
183 CALORIES
PER PANCAKE
• 2 tbsp coconut flour
• 4 tsp buckwheat flour
• 1 date, pitted
• 2 eggs
• 150ml unsweetened almond milk
• 1 tsp raw coconut oil
TO SERVE
• 2 kiwi fruit, peeled and sliced
• Blackberries
• Natural Greek yoghurt
• 4 sprigs of mint
Kiwi pancakes
I enjoy eating kiwis just as they are – scooping out the delicious tangy-sweet flesh with a teaspoon. At the weekend, when I have more time, I'll make these pancakes and add some berries and yoghurt for a gorgeous relaxed breakfast; the natural sweetness is all that's needed to bring it to life – no sugar necessary. Combining blackberries and kiwi fruit delivers a mega dose of free radical busting antioxidants, topped off with probiotic-rich Greek yoghurt for a feast for the skin!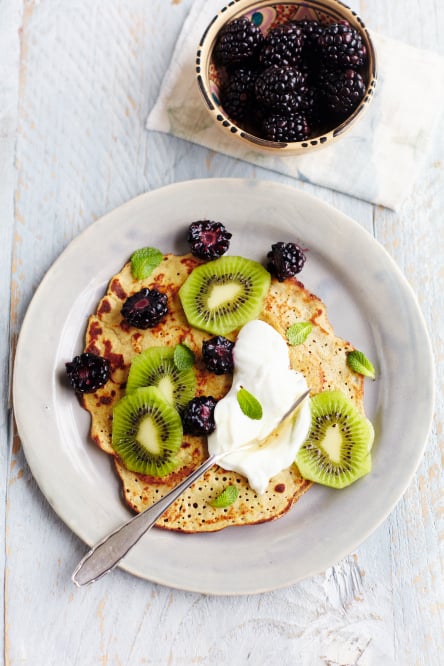 Place the flours, date and eggs in a food processor and pour in the milk and 150ml of water. Blend all the ingredients together until smooth and transfer to a jug.
Melt the coconut oil in a non-stick frying pan. Pour or ladle enough pancake batter into the pan to cover the bottom of it in a thin, even layer.
Cook the pancake over a medium heat for 3–4 minutes or until golden brown on the bottom, then carefully flip over using a spatula and cook the other side for another 2–3 minutes. Slip on to a plate and continue making pancakes until the batter is used up.
Serve the finished pancakes with slices of kiwi fruit, a sprinkling of blackberries and a spoonful of Greek yoghurt. Garnish each one with some mint.
SERVES 2
230 CALORIES
PER SERVING
• 100g burrata or buffalo mozzarella
• 2 fresh figs, quartered
• 2 large handfuls of rocket
• 1 tbsp extra-virgin olive oil
• 1 tbsp balsamic vinegar
• Fresh basil, to serve
Fig salad
Good for detoxifying the system, figs add a touch of natural sweetness, providing a healthier alternative to processed sugars, which can be detrimental to your skin.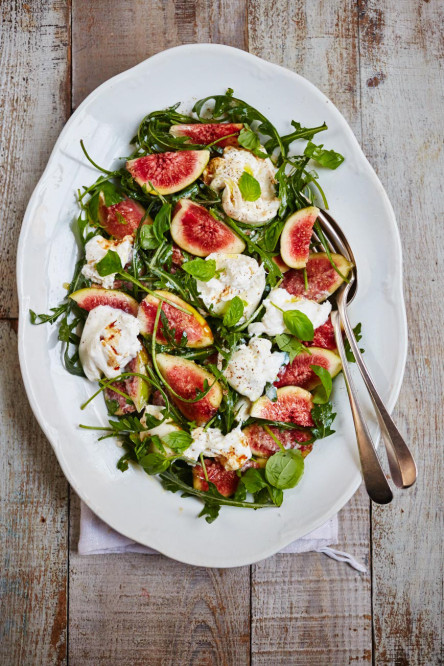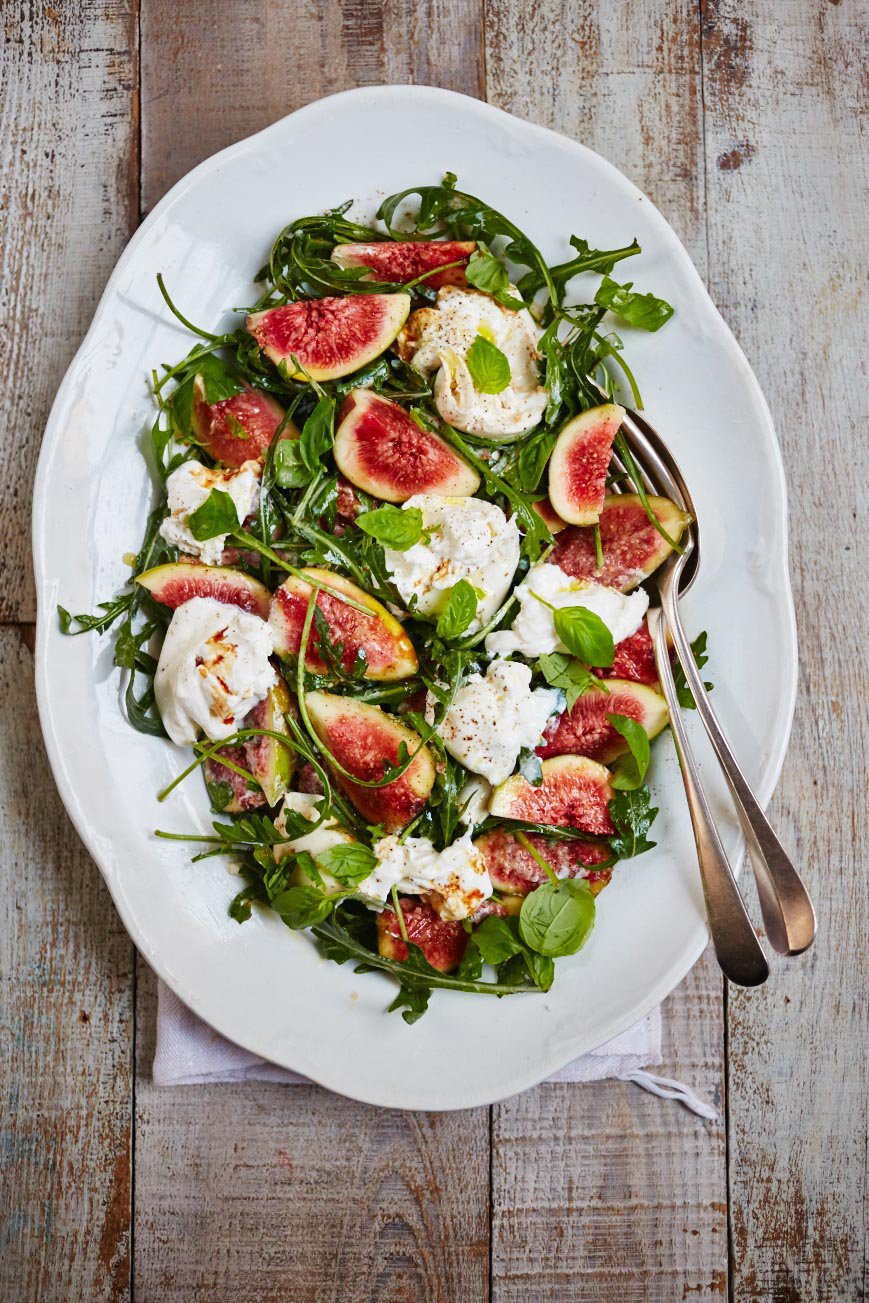 Break the burrata or mozzarella into bite-sized pieces and place in a bowl with the figs. Add the rocket and mix well to make sure everything is evenly distributed.
Dress at the last minute, drizzling over the olive oil and balsamic vinegar in a zigzag motion and scatter over basil leaves to serve.
SERVES 2
444 CALORIES
PER SERVING
• 2 large skinless and boneless chicken thighs or breasts
• 1 tbsp raw coconut oil
FOR THE MARINADE
• 2 tbsp ground cumin
• 1 tsp paprika
• 1 tsp ground coriander
• 1 shallot, finely chopped
• 1 garlic clove, finely chopped
• Pinch of curry powder
• Juice of 1 lime
• 1 tbsp olive oil
TO SERVE
• 1–2 slices of halloumi
• 1 gluten-free brown pitta bread
• Handful of fresh coriander, chopped
• Handful of alfalfa sprouts
Alfalfa chicken pita
Try alfalfa in this healthy but delicious lunch: alfalfa sprouts, with all their powerful nutrients, mixed with tasty cooked chicken (another food that's good for the skin) and grilled halloumi. Even the spices used for the marinade can benefit the skin: the antioxidant curcuminoids in turmeric (a component of curry powder), which give it the bright yellow colour, may help inflammatory skin conditions such as psoriasis.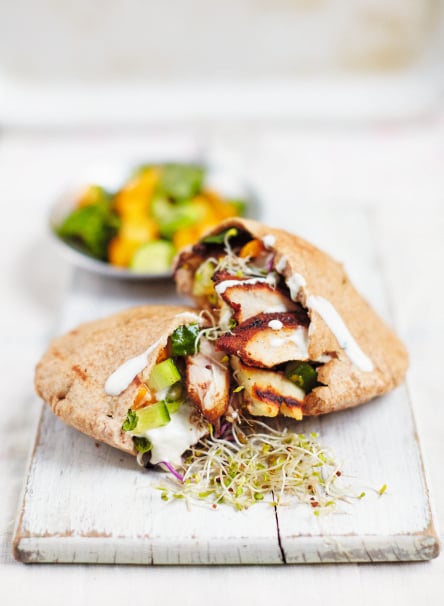 Mix all the marinade ingredients together in a bowl, then add the chicken thighs and leave to marinate in the fridge for 2 hours or overnight (or see tip).
Melt the coconut oil in a frying pan over a high heat. When the pan is hot, add the marinated chicken thighs and cook on one side to brown the meat and seal in the spices before turning over to brown the other side. Fry for about 15 minutes in total or until the chicken is cooked through.
Shortly before the chicken has finished cooking, place the halloumi in the pan and cook for a couple of minutes on each side. Transfer the chicken and halloumi to a plate and cut the meat into smaller pieces.
To assemble, slice open the pitta bread and fill it with the halloumi, chicken, coriander and alfalfa sprouts. Cut the filled pitta in half and serve with some tzatziki on the side.
TOP TIPS
If you don't have time to leave the chicken to marinate, simply pop it into a resealable freezer bag with the marinade ingredients and squeeze everything together so that the chicken is well coated. You can then cook the chicken straight away.
If you liked these recipes then get your hands on your own copy of Eat Beautiful by clicking here. Enjoy!
THIS POST CONTAINS AFFILIATE LINKS
© Wendy Rowe. All Rights Reserved.