Suki and Poppy first met on the dance-floor of a nightclub in LA, both having newly relocated from London in order to pursue their careers abroad. The two quickly formed a close bond and became inseparable best friends.
Poppy and Suki had the idea together to create a range of gorgeous, versatile fashion accessories that celebrated friendship, which you could customize; something inclusive, which friends could have fun with and enjoy together – and through their shared philosophy – Pop and Suki was born!
What I love about the range, is that as well as looking super cool, the accessories are so versatile too.
Here are my favourite picks from the range:

Camera Bag
I love the customizable Camera Bag; you can change the straps on to make it a cross-body bag, a lady bag, a bum bag or even a backpack.
Leather Add-Ons
The range also includes a range of leather add-ons, which you can use to customize your accessories – I love the "BFF Heart" charm, which comes in two halves for you to share with a friend, and the leather tassels and personalized luggage tags are super cute too.
Charms
I absolutely love the charms – you can choose from a range of stones and crystals depending on your mood or as a personalized gift for a friend. I especially like the Rose Quartz as it opens the heart and signifies unconditional love, dissolving fear and helping to bring about a deep sense of fulfillment.
Paperclip Chain
The Paperclip Chain comes in a choice of gold or silver and can be worn as a necklace, bracelet, anklet or body chain – you can even attach the jewelry charms to the paperclip chain too to personalize it.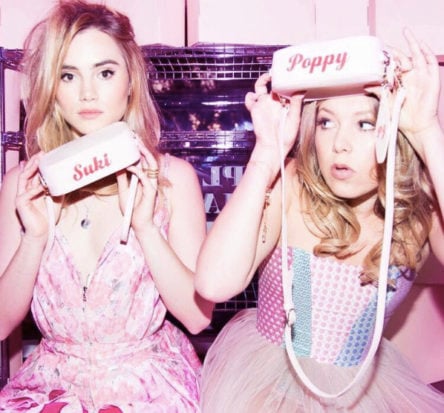 ---
Q&A with Suki…
Your range is inspired by friendship. How did you and Poppy first meet?
We met dancing in a nightclub and clicked very quickly. We were deeply entwined with each other very quickly.
Where did the idea come from for the range?
Sometimes you know things are meant to be and everything happens very organically. We loved getting dressed together and dreamed about doing something together where we could create our own world.
I love that your accessories are gorgeous, but also versatile and customisable. What's your ultimate must have from the range?
I'm glued to my black camera bag. It's really light and unfussy.
Who's in your girl gang/ squad?
My most trusted friends are Poppy and my sister Immy but my girl friends are spread far and wide!
Describe the perfect day with your BFF?
Definitely involves the spa. My sister Maddy and I had massages the other day and Chinese after. Perfect! Poppy and I are big fans of a long walk.
Camera Bag or Shopper?
I need both!
Gold or Silver?
Gold
London or LA?
I'm constantly in love with my surroundings, can't decide!
What qualities make someone a good friend?
Sharing the burden of a rant and finding the funny parts of the drama.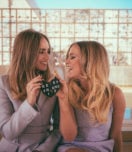 ---
© Wendy Rowe. All Rights Reserved.