View this post on Instagram
I've worked with model Edie many times and she is a real natural beauty. I wanted you to get to know her a little better, so she kindly agreed to answer my Q&A.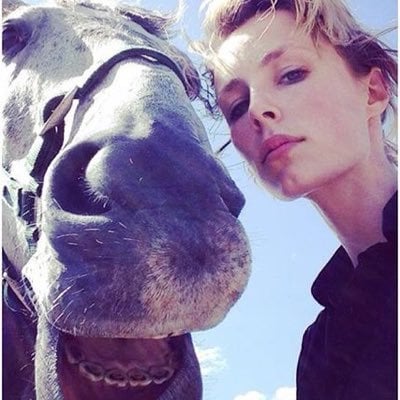 Five minutes with Edie Campbell
What are you watching at the moment?
At the moment I'm watching Love on Netflix; it's really good.
What is your guilty pleasure?
Chocolate, pudding, cake…
Tell me something nobody knows about you?
I really like tinned sweetcorn with soy sauce on it.
What is your favourite work out?
Horse-riding.
Can you tell us your four essential beauty products?
Sarah Chapman's 3D Moisture Infusion Mask, YSL Baby Doll Mascara, Marc Jacobs' Eyebrow Gel and Kiehls' Factor 50 Sun Cream because I'm a pale fragile doll!
What do you think every woman should have in her wardrobe?
(Clothes..!) An Itchy Scratchy Patchy – it's an iron-on patch that you apply to clothes. My friend, Artist, Christabel MacGreevy and I have created the Itchy Scratchy Patchys together
ITCHY SCRATCHY PATCHY
Edie and Christabel's customisation patches have gone down a storm since they launched and are a favourite with off duty models backstage; spotted on Edie herself (of course!) as well as Gigi and Bella Hadid to name a few. The patches are a collection of sew-on and stick-on patches that have all been hand designed and beautifully stitched which you can apply to bags, jeans, t-shirts to customise to your own style.
The range includes humorous designs such as 'Friends with Benefits', 'The Bodybuilder', 'The Feminist', 'The Pole Dancer', 'The Showgirl' and 'The Philosopher' as well as some beautiful flora and fauna designs.
BUY YOUR PATCH: Click HERE to get yours online or head down to Dover Street Market and find them there too.


READ NEXT: Edie's Met Ball Beauty Look
© Wendy Rowe. All Rights Reserved.