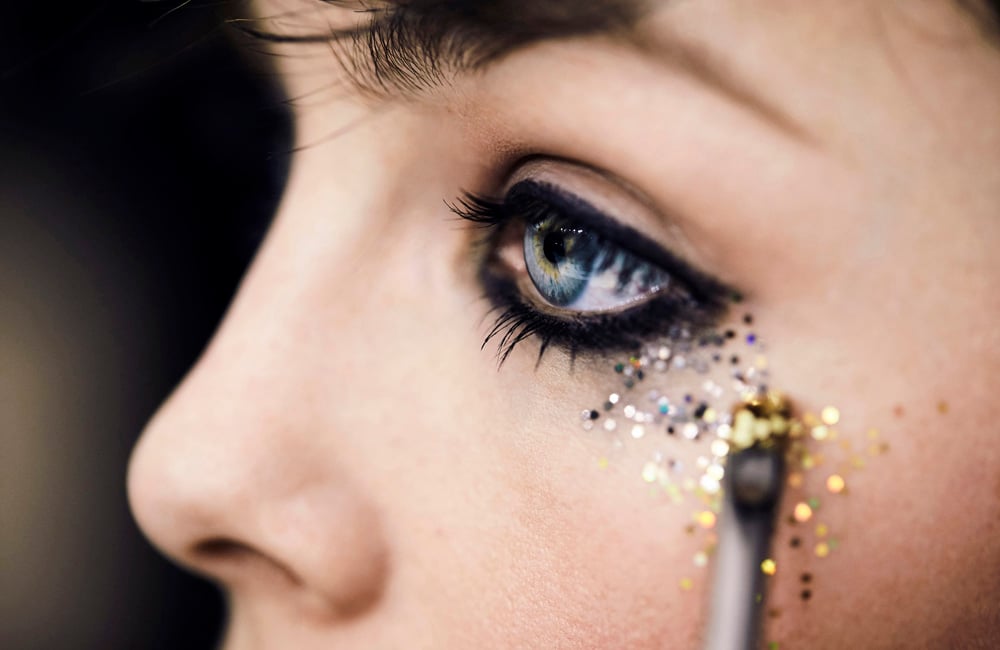 New Year's Eve is the ultimate party night, so it requires the ultimate party look. And nothing says 'party' like glitter! So make your NYE makeup look the most sparkling of the year, with a little help from this roundup of catwalk inspiration. Both the AW18 and SS19 shows were awash with glitters, jewels and metallics, so there are plenty of high fashion looks to choose from this year.
THIS POST CONTAINS AFFILIATE LINKS
5 Glitter NYE Makeup Looks from the Shows
TOP TIP: If you're using loose glitter makeup to create any of these suggestions, opt for bigger glitter chunks, since smaller options can be slightly problematic around the eyes. If you have sensitive skin or you wear contacts, then crystals might be a better option.
Glitter bomb at Giambattista Valli AW18
There's dipping your toe in a trend, and then there's smothering yourself in glue, throwing yourself into a pool of glitter and rolling around in it. Val Garland's Giambattista Valli AW18 look was closer to the latter, and it's the perfect OTT NYE makeup look!
Wear it: If stepping out with a full face of glitter isn't quite the vibe you're after, take the look down in size to cover your eyelids for a party-perfect look to see in 2019.
Buy: MAC Glitter
CRYSTAL EYES AT VALENTINO SS19
The brilliant Pat McGrath created the ultimate party look at the Valentino SS19 show, where glittering eyes or lips were created using hand-applied Swarovski crystals. If your NYE makeup look needs to be really major, this could be the perfect inspiration!
Wear it: Press-on crystals or jewels are really easy to get your hands on now, and whether it's a light smattering or a Pat-inspired full lid or lip, the effect can be perfect for a big party look.
Buy: Makeup Forever Crystal Strass
METALLIC EYES AT TOMMY HILFIGER AW18
Mark Carrasquillo evolved the popular tear duct highlighting technique by using a touch of silver eyeshadow. This is such a wearable NYE makeup look, that's perfect for any big party and can even be adapted for daytime wear.
Wear it: Use either a metallic liner or a touch of dazzle dust or glitter for a less polished finish to gently highlight the inner corner of the eye. A subtle version of the look will work in the daytime, too.
BEJEWELLED AT PRADA AW18
If you can't be dealing with the mess of glitter on NYE, try Pat McGrath's take on the trend for Prada, where bejewelled cat eyes provide another great party makeup idea for the big night.
Wear it: Use a pop of colour to create an on-trend graphic line and embellish with your favourite glitter or make like Pat and reach for the Swarovski crystals.
Buy: Pat McGrath Subversive La Vie En Rose Palette
SPRINKLE OF GLITTER AT PREEN AW18
Glitter queen Val Garland was at it again for this look, with a sprinkle of glitter across the models' foreheads to make them look as if they'd just emerged from the water from a hunt for pearls. Is that the vibe you're shooting for this New Year's Eve?
Wear it: NYE is all about being bold and beautiful so there's no reason you can't lift this look straight from the catwalk. But if you want something a little more subtle, move the sprinkle of glitter to the eyes or upper cheeks and use an illuminating product all over for gorgeous glowing skin.
Buy: Val used MAC Mixing Medium Shine
READ NEXT: More Party Season Glitter | Best Long-Wear Lipsticks
© Wendy Rowe. All Rights Reserved.