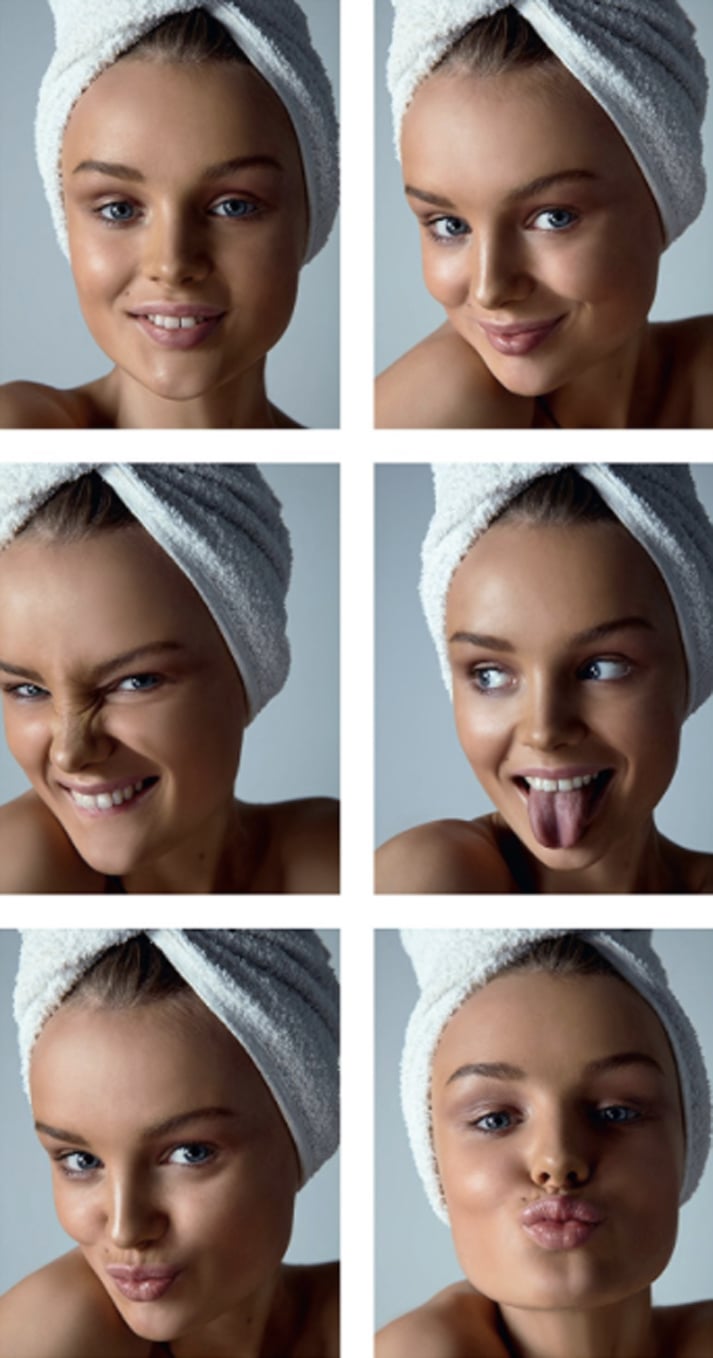 First of all, I'm always amazed when people tell me they sleep with their makeup on, or they work out with their makeup on; this is major skin betrayal and so ageing!! You might think you're getting away with it in your 20's but you'll realise the error of your ways as you get older and believe me: your skin will thank you for getting into the habit of a good routine early on – you'll really notice visible benefits in your 30's and beyond.
THIS POST CONTAINS AFFILIATE LINKS
A lot of people tell me they are actually a bit unsure of how to really clean and look after their skin properly – there are so many theories and complicated routines out there, that it can all be a bit overwhelming and intimidating.
To start with, a face wipe or some micellar water alone aren't going to do the job, but keeping your skin clean and in good condition doesn't need to be hard or over complicated; it's something that you can easily achieve with the right products and a bit of know-how. I've tried to simplify things and break it down into a day and a night routine – once you get into the swing of things it'll come naturally and you won't look back once you start seeing the results.
---
Morning: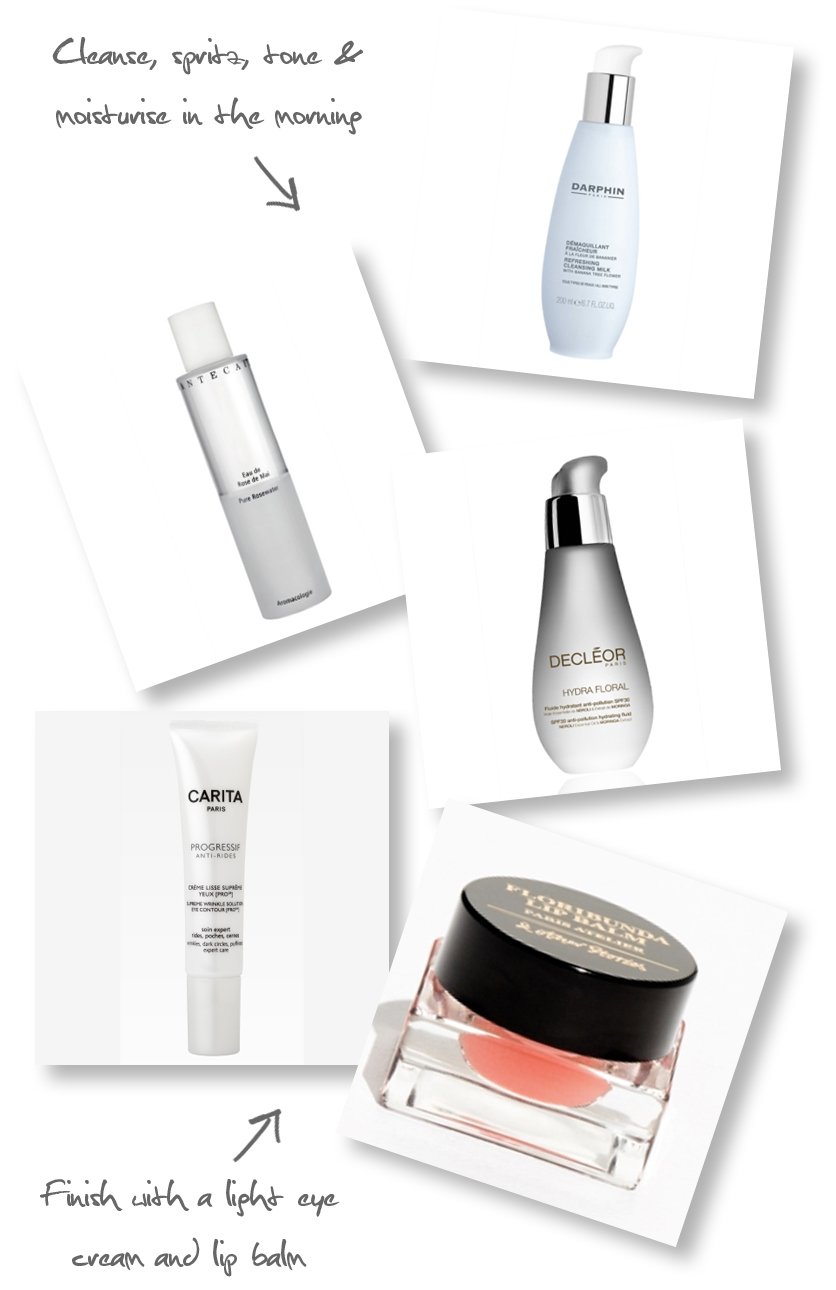 In the morning, keep your skincare simple and light.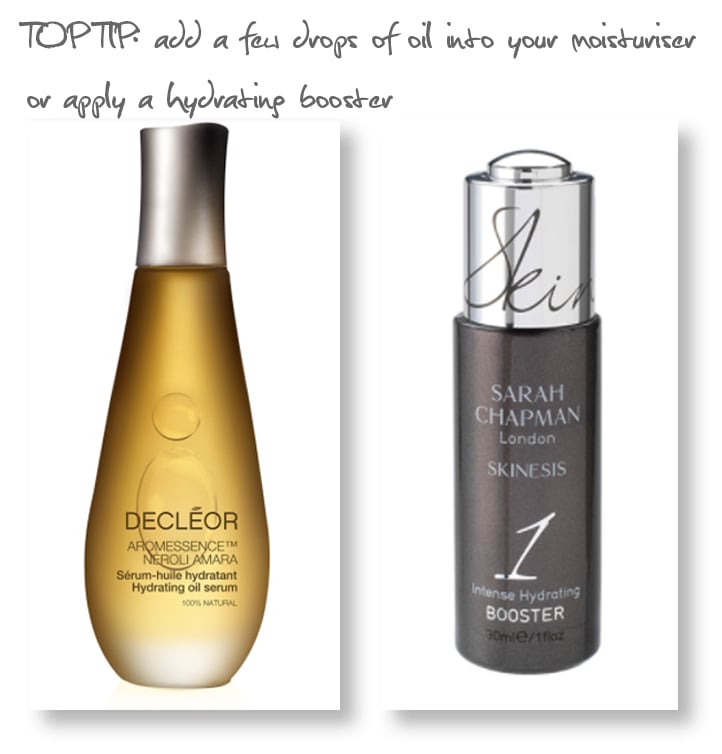 TOP TIPS:
Avoid any products that contain artificial fragrances or ingredients – look for things that are more natural.
If your skin is feeling extra dry, dehydrated or the weather conditions are harsh, add a few drops of oil into your moisturiser or apply a hydrating booster.
Your skin shouldn't ever feel tight. A lot of people tell me they like the feeling of their skin being tight as it makes them feel like it's really clean. In actual fact, the feeling of tightness comes about when the skin is stripped of it's natural oils and that's not a good thing! The skin needs it's natural oils, so be careful not to be too hard on yourself.
---
Evening: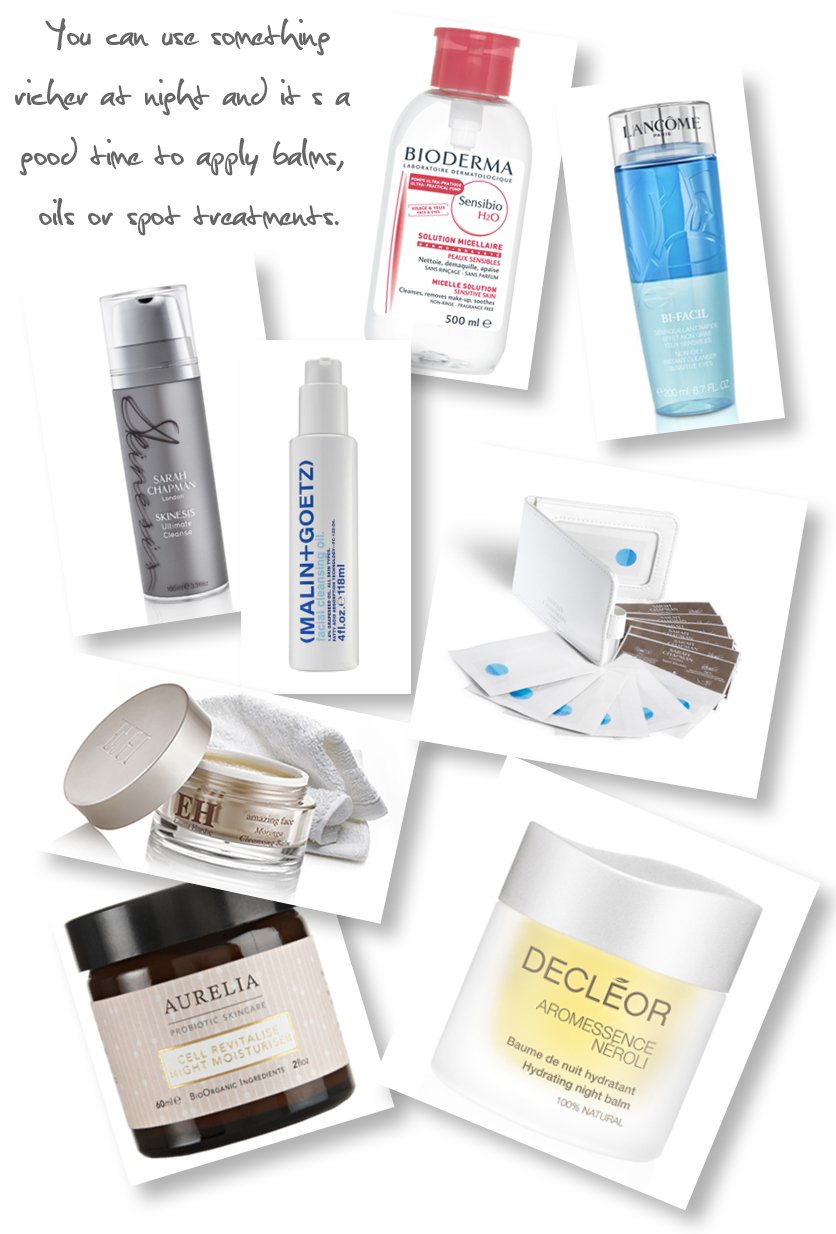 The evening is the time where skin naturally heals and repairs itself as we sleep, so you can use something richer at night and it's a good time to apply balms, oils or spot treatments.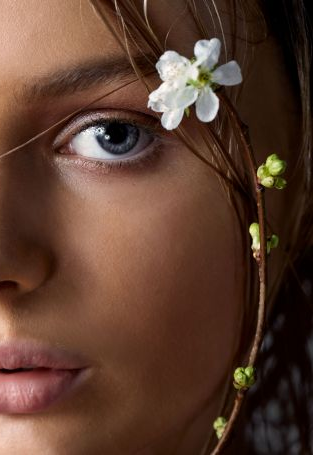 First up, remove any makeup from the skin using a micellar water. Around the eye area, use an oil based makeup remover to tackle any stubborn mascara or eyeliner without damaging the delicate skin.
Next, use a cream cleanser, an oil cleanser or a balm cleanser – whichever you prefer – and spend a bit of time massaging it into the skin to do a bit of lymphatic drainage and to remove any bits of dead skin. Remove with cotton pads soaked in water or a clean flannel or wash cloth.
Spritz a toner onto the skin the same as in the morning to close up the pores and blot off any excess with a sheet of tissue.
Moisturise. Go for a richer formula at night to nourish and help the skin repair. If you want to use an oil, then apply that either on it's own or under moisturiser.
Treat any concerns. If you have any blemishes, then apply some Sudocrem or a Spot Sticker. Night is also the best time to apply an ointment balm too – either apply the ointment to any blemishes or dry, irritated areas of skin, or you could apply a thin layer to the whole face as a treatment once a week.
---
EXFOLIATE
Once a week in the evening, make sure to exfoliate your skin to prevent the build up of dead skin cells and to promote fresh, bright, clear skin. Try to look for something that isn't too harsh on the skin; some of the exfoliators that contain grains can be rough and damaging to the skin, leading to enlarged pores.
Look for something that contains exfoliating acids instead – try things containing Vitamin A, glycolic acid, salicylic acid, lactic acid or fruit acid and be sure to follow with a moisturiser or night oil.


READ NEXT: Get clean skin in a hurry with my pick of the best cleansers
© Wendy Rowe. All Rights Reserved.